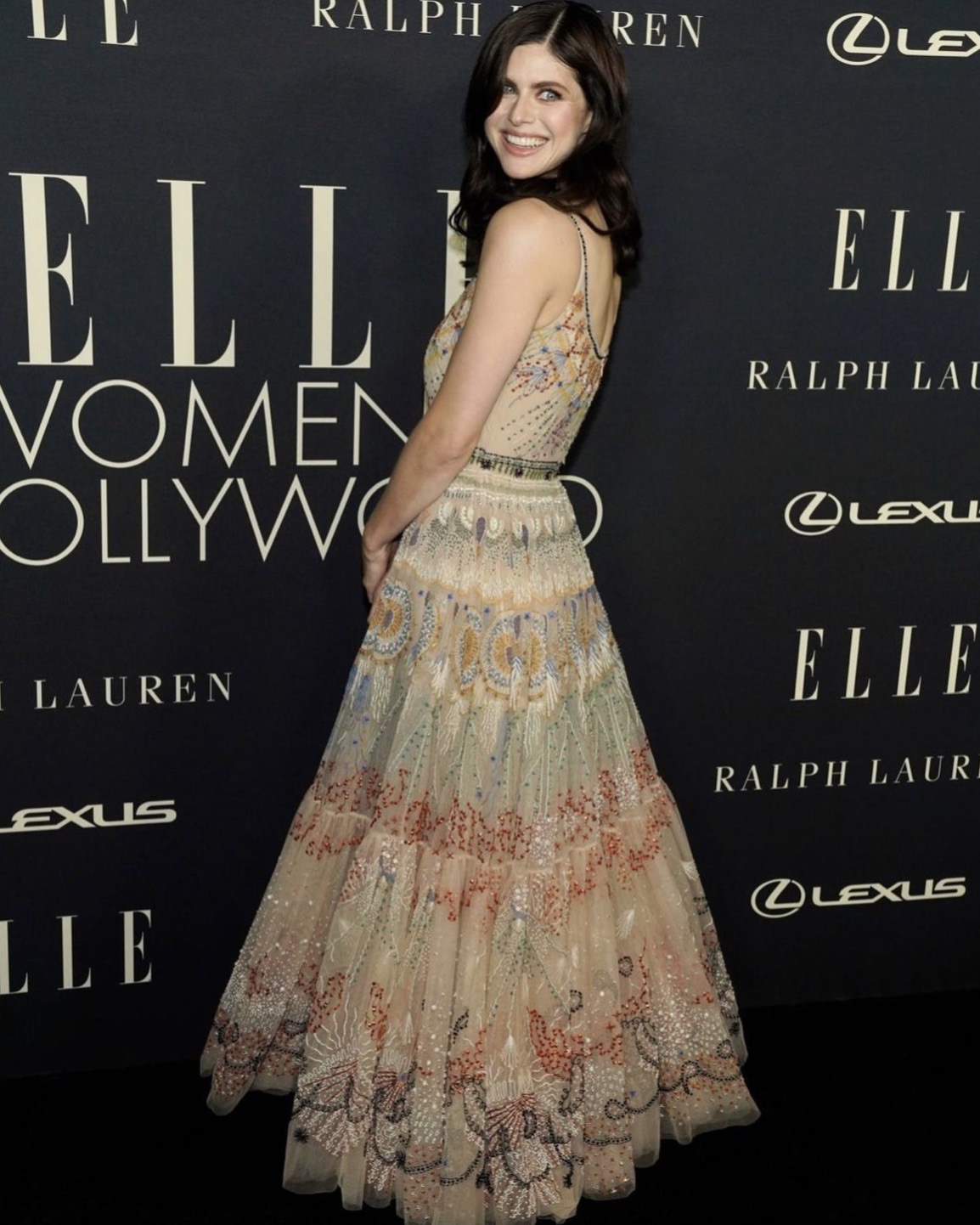 Get The Look: Alexandra Daddario Dress Style
@alexandradaddario / Instagram
Get The Look: Alexandra Daddario Dress Style
When it comes to style inspiration, particularly gowns, Alexandra Daddario's dress style is usually on the list. While a hidden gem within the busy world of fashion, the actress is most known for her impeccable fashion choices. Alexandra's looks are a perfect blend of elegance and femininity, with a touch of Hollywood glamour. So not only is she glamorous, but she's also a practical source of inspiration for the everyday woman. One particular style that caught our attention is the stunning nude gown adorned with embellishments. With its tank straps, floor-length silhouette gently sweeping the floor, Alexandra Daddario's dress style exudes a captivating allure fit for any special occasion.
Alexandra Daddario's Feminine Dress Style
Alexandra Daddario's dress style is undoubtedly a celebration of femininity. The Hollywood actress effortlessly embraces chic and timeless silhouettes that enhance her natural beauty. Whether she's gracing a red carpet event or attending a casual outing, her dress choices are always on point. With her versatile wardrobe, she proves that every woman can effortlessly exude elegance and confidence through her fashion choices. And the best part is, her style isn't all that complex to achieve.
For example, the DRESS THE POPULATION Sierra Sequin Plunge Neck Gown is the perfect dupe for her look. When it comes to looking for the best look-alike, it's important to focus on the key factors: color, silhouette, and design. Most of the time, the actress is likely going to steer towards feminine silhouettes, light colors, and simpler designs. But just because Alexandra Daddario's dress style is all of that, doesn't mean you have to copy the inspiring piece. Keep scrolling to find more favorites in different shades and silhouettes—they're all just as stellar.
Shop The DRESS THE POPULATION Sidney Deep V-Neck 3D Lace Gown
DRESS THE POPULATION Sidney Deep V-Neck 3D Lace Gown

$

298
Embellished Gowns For A Memorable Evening
Alexandra Daddario's dress style is the perfect example of what evening wear is all about. Embellished gowns are the ultimate choice for a memorable night, just like the ones Alexandra often wears. These exquisite creations not only showcase high quality craftsmanship but also add a touch of luxury to any event. You don't need to be walking the red carpet to wear something extraordinary. Embrace the allure of embellished gowns, and you'll instantly feel like the star of your own red-carpet moment.
Our favorites are the RACHEL GILBERT Remi Pleated Bustier Open-Back Beaded Gown and the HELSI Frankie Bustier Gown. Whether it's a gala, a romantic dinner, or a glamorous celebration, these will make you feel like a true Hollywood diva. And the best part is that they're so simple to style. With a pair of designer heels and an elegant clutch, you'll be on your way to feeling a bit more like Alexandra Daddario with her dress style.
Shop Alexandra Daddario's Dress Style
ALICE + OLIVIA Georgie Embroidered Strapless Gown

$

2,695

RALPH LAUREN Reymond Embellished Tulle Gown

$

5,490

HELSI Frankie Bustier Gown

$

775

ROTATE BIRGER CHRISTENSEN 3d Mesh Maxi Tube Dress

$

590

RALPH LAUREN Reymond Embellished Sleeveless Slip Gown

$

5,490

DRESS THE POPULATION BLACK LABEL Melina Lace Overlay Dress

$

298

HELSI Lola Strapless Sequin Column Gown

$

695

ML MONIQUE LHUILLIER Rose Halter Satin Gown

$

595

SEMSEM Pleated Sequined Tulle Gown

$

2,250

BRONX AND BANCO Runway Midnight Gown

$

1,100

DRESS THE POPULATION Sierra Sequin Plunge Neck Gown

$

348

JASON WU Embroidered Ruffle Plunge Neck Gown

$

4,995

NEEDLE & THREAD Dianella Sequin Gown

$

1,049

RACHEL GILBERT Remi Pleated Bustier Open-Back Beaded Gown

$

2,990

DRESS THE POPULATION Sidney Deep V-Neck 3D Lace Gown

$

298