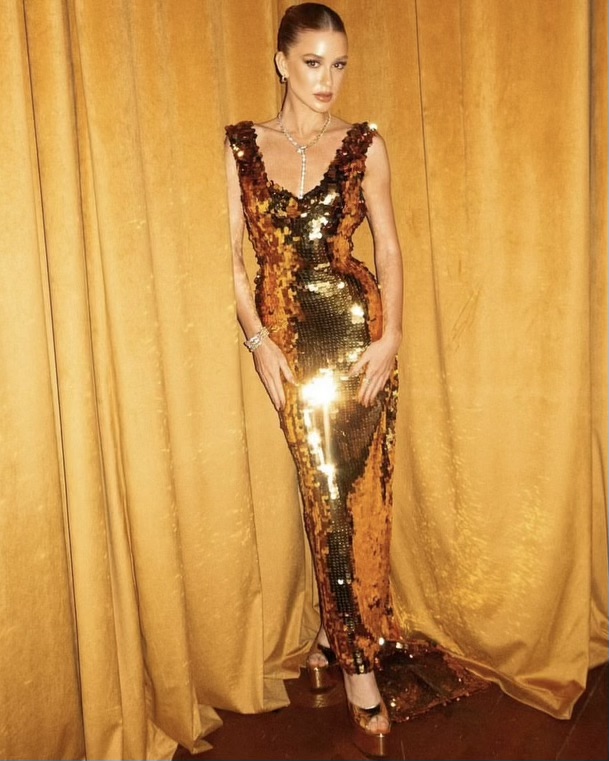 EMILIA WICKSTEAD
Evening Wear Is Going Bold—These Are The Flashy Party Dresses We're Buying
As the party season approaches, it's time to elevate your evening wardrobe with a touch of boldness and glamour with flashy party dresses. However, the best of course, are styles that capture attention in the most unexpected ways. From classic shades shimmering with sequins to voluminous textures, these dresses redefine evening wear with their striking allure and trendsetting designs.
So, whether you're into the wearable glamour of LULUS or the striking styles of Erdem, you're in luck. These four editor picks are just what your closet needs to lead a night filled with excitement. Not to mention, these flashy party dresses can (and should) be worn over and over again. Regardless of your usual party attire, these four and counting styles are here to upgrade your wardrobe.
Flashy Party Dresses In Classic Shades
Stepping into the light demands confidence, and these flirty, flashy party dresses are your ticket to making a grand entrance. Picture yourself adorned in the captivating LULUS anjou sequin fringe cocktail dress or the sleek 16Arlington salina sequined v-neck mini dress. Fusing timeless shades with glistening sequins, this pair radiates a classic, yet trendy charm. Not to mention, they're much more wearable for those not yet used to getting all of the attention.
However, even if you're willing to step outside of the box, you'll find the 16Arlington style to be just perfect. With just the right amount of cleavage for some fun, and its flirty length, you're promised an unforgettable entrance. After all, isn't that the whole point of flashy party dresses anyway?
Shop more flashy party dresses selected and reviewed by our expert fashion buyers and stylists
MARIA LUCIA HOHAN Regina Midi Dress

$

2,405

FOR LOVE & LEMONS X Revolve Bustier Gown

$

348

TALLER MARMO Garbo Off-the-shoulder Feather-trim Crepe Dress

$

1,870

THE VAMPIRE'S WIFE The Poison Bow-sleeve Lamé Gown

$

3,250

E.STOTT Olive + Ellen Detachable-skirt Sequinned Dress

$

1,395

ERDEM Appliquéd Ruffled Textured-satin Midi Dress

$

4,395

SPORTMAX Mantide Turtleneck Mesh Midi Dress

$

3,290

16ARLINGTON Salina Sequined V-neck Mini Dress

$

890

LULUS Anjou Sequin Fringe Cocktail Dress

$

74

EMILIA WICKSTEAD Sequined Gown

$

2,405

LOVERS + FRIENDS Penelope Mini Dress

$

178
Add Drama With Some Volume & Texture
For those seeking a dramatic impact, opt for flashy party dresses that embrace volume and texture. The best place to start? The striking E.Scott olive + Ellen detachable-skirt sequined dress. Classic, yet unique in its own right, this piece is perfect for those looking for a timeless touch. Although on the trendier side, its classic black color makes up for the drama up top. But even if you're not into sequins, it's full skirt will surely win your heart like it did ours.
Meanwhile, the Erdem appliquéd ruffled textured-satin midi dress is another to snag now. With cascading layers adding depth and drama, you can't go wrong with this runway showstopper. And, with voluminous silhouettes and captivating textures, these flashy party dresses epitomize fashion innovation. Moreover, they also set the stage for a standout presence everywhere you plan to go. No matter the dress you choose, you can be confident knowing your night will go better than planned.