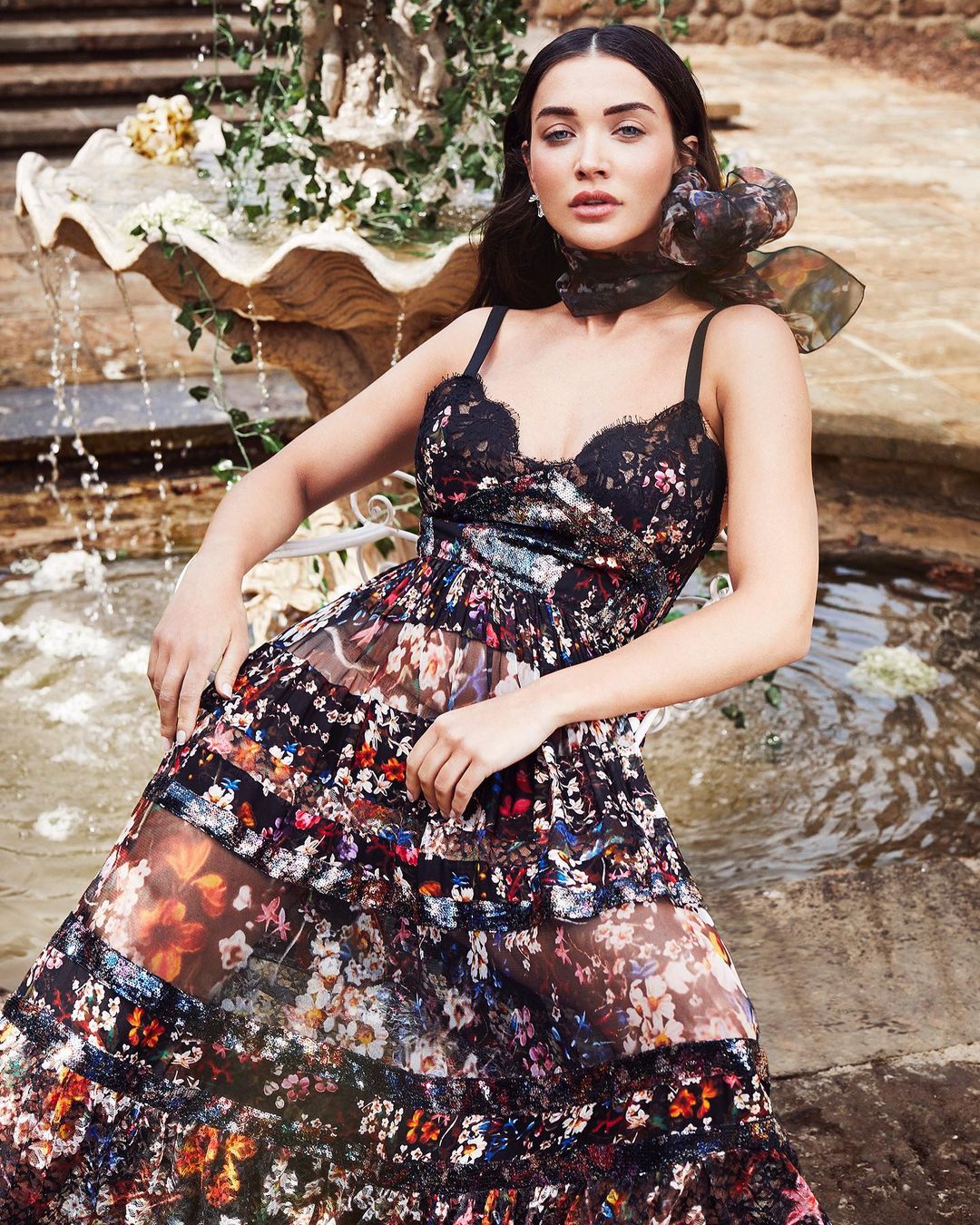 @IAMAMYJACKSON / INSTAGRAM
Amy Jackson Wore The Most Amazing Floral Maxi Dress… And We've Found The Perfect Dupes
We've seen a lot of floral maxi dresses in our time – like, a lot! But few compare to this stunning, moody floral gown worn by the ever-chic Amy Jackson. From the luxurious lace-trimmed neckline and perfectly fitted bodice to the floaty A-line skirt and all-over mixed floral prints, this dress demands attention at every turn. We've been smitten since the moment we laid eyes on it, waiting for the perfect moment to replicate the look. Now that fall is finally here with winter nipping at its heels, we can think of no better time than right now for this edit. Simply keep on reading to discover all of the similar silhouettes we've found and get ready to feel fabulous in florals for the season ahead. We won't even blame you for staging an impromptu photoshoot because, yes, these dresses are just that good!
Moody Florals Inspired By Amy Jackson
Thanks to this show-stopping Amy Jackson dress, moody florals are now all we want to wear this fall/winter season! Luckily, the world's leading online fashion stores are fully stocked with similar silhouettes from our favorite designers. So, we'll be making plans to wear dresses like the V- neck ruffle dress by Maeve every chance we get. With a sleek V-neckline, deep multi-colored floral print, and sheer detailing on the skirt, this irresistible floral midi dress is remarkably similar to Amy's. Additionally, it's perfect for countless events on your calendar from date nights to drinks with friends and more. Our advice? Style it with simple heeled black sandals and let the print do all the talking!
Alternatively, when the RSVP states black tie, choose the floral embellished open-back slip gown by Oscar De La Renta. We're loving this playful take on a long black evening gown. A classic plunge neckline, a structured bodice, and a cut-out back with bow tie detailing. Style it with black stiletto sandals for timeless accessorizing. Or, mix things up and go for heels in a coordinating colorway to the print.
Shop The MAEVE V-Neck Ruffle Dress
Designer Gowns And Dresses In The Style Of Amy Jackson
Now, if you're all about glitzy party silhouettes and feeling inspired by the sequin detailing on the bodice of our inspo dress, we get it. Look no further than the floral embellished open-back slip gown by Naeem Khan. Firstly, we're head over heels for this statement design – and will be making plans just for the excuse to wear it more! Secondly, the elegant mix of black and gold is truly luxurious and, thanks to the floor-length skirt, this dress makes a dramatic impression. Pair it with heels to lengthen your silhouette and prepare for all eyes on you.
Lastly, but by no means least, we're coveting the Bixie dress by Veronica Beard. The perfect way to try this trend in less formal settings, this slip dress will be a go-to in both your fall and winter line-ups. Style it with heels for dressier occasions, or with boots and knit/outerwear for low-key weekend plans. This dress will work hard in your closet for many seasons and, most likely, many years to come!
Shop Amy Jackson's Dress Style...