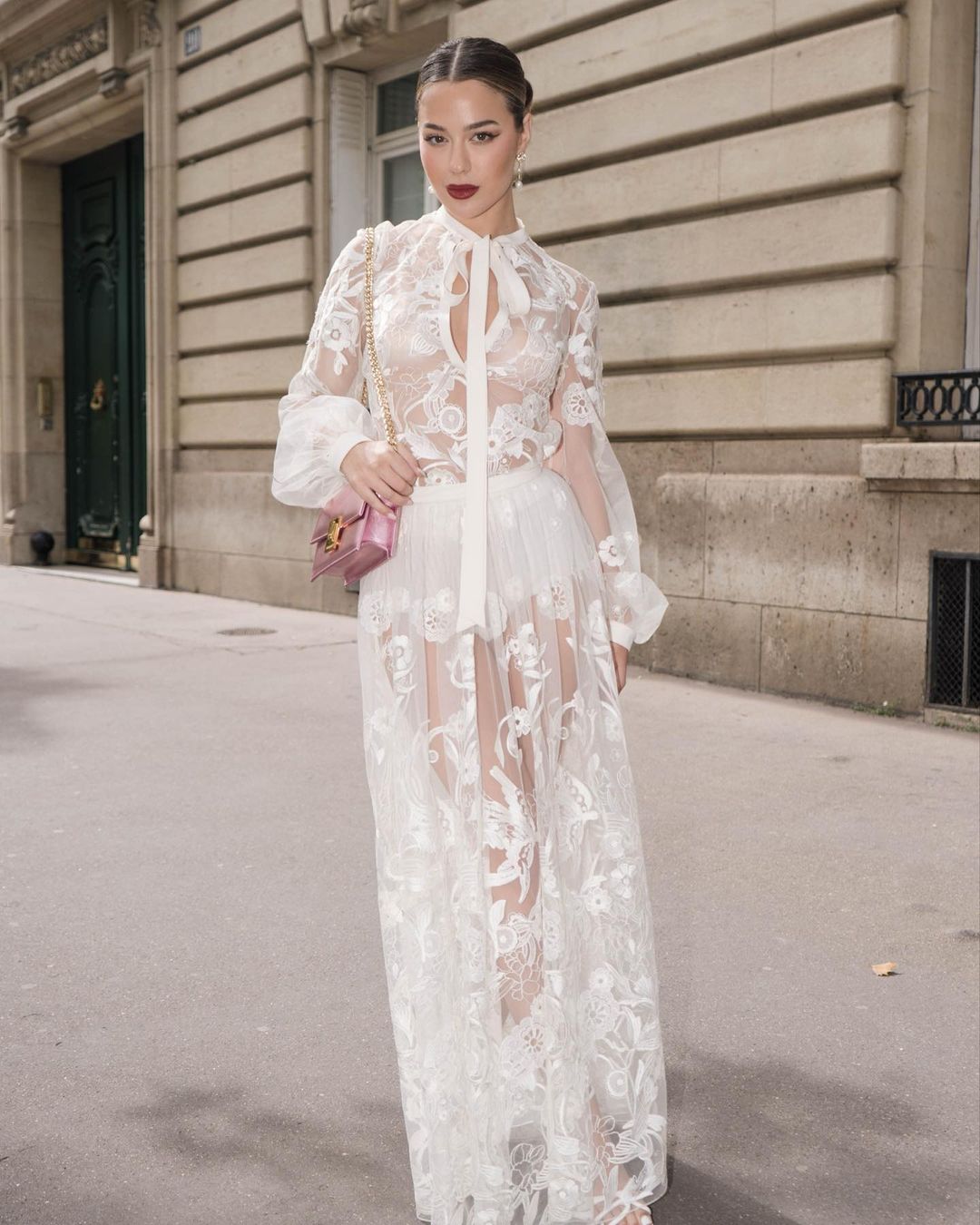 @TESSABROOKS / INSTAGRAM
Celebrity Dress Of The Week: Tessa Brooks' Sheer White Maxi Dress
We're forever swooning over Tessa Brooks and her flawless lineup of dresses. However, this sheer, white floral maxi has us particularly smitten. From the long blouson sleeves and elegant high neckline to the maxi-length skirt and allover floral embroidery. This dress has been living rent free in our minds for weeks and we're finally doing something about it! Keep scrolling to discover all of the dreamy, designer white dresses we've found with a little help from the world's leading online fashion stores. Your closet is about to get a heck of a lot prettier!
Sheer White Floral Maxi Dresses Like Tessa Brooks'
Just when we thought we'd never find a dress as pretty as Tessa Brooks', we found these equally beautiful designer silhouettes. For example, the Lyra embroidered gown by Dress The Population has pretty much every one of the details we love about our inspo dress. Firstly, long puffed sleeves and a high round neckline. Secondly, the seamed waist flatters your figure and makes way for the long, tiered maxi skirt. Meanwhile, the main feature we're so in love with, the all-over floral embroidery. This dress has the most amazing sheer construction decorated with delicate flowers from top to bottom. Spin around and show off the open back to stun from every angle. Eyeing this one for your wedding dress or another bridal occasion? We don't blame you!
Additionally, we're wasting no time adding the Alayne dress by Doen to our carts. The ultimate early autumn shirt dress, it has the prettiest long sleeves, a v-neckline, and a sheer skirt to show a glimpse of your legs. This dress also has allover 3D  floral detailing and will look just as amazing dressed up with modest heels as it does worn casually with boots.
Shop The SIMONE ROCHA Embroidered Tulle Maxi Dress
Put Your Own Spin On The Tessa Brooks Dress Style
Love this Tessa Brooks dress but the occasion calls for something different? We have you covered. By picking out dresses with the most iconic details, we can still wear something similar no matter the dress code. For example, if your plans are a little too laid back for sheer skirts and 3D embellishments, choose the Jules dress by Merlette NYC instead. This gorgeous white maxi dress has a similar vibe to Tessa's with its long sleeves, long skirt, and eyelet details which mimic the floral additions. However, it's decidedly more casual and will look amazing with your go-to fall and winter boots!
Meanwhile, if sleeves just aren't your thing, the embroidered lace long dress by Oscar De La Renta definitely will be! Floaty, formal, and the kind of pretty you read about in fairytales. When it comes to stealing Tessa Brooks' style, this dress has it all… minus the sleeves. So, add it to your cart now before it inevitably sells out again!
Shop Tessa Brooks' Dress Style...