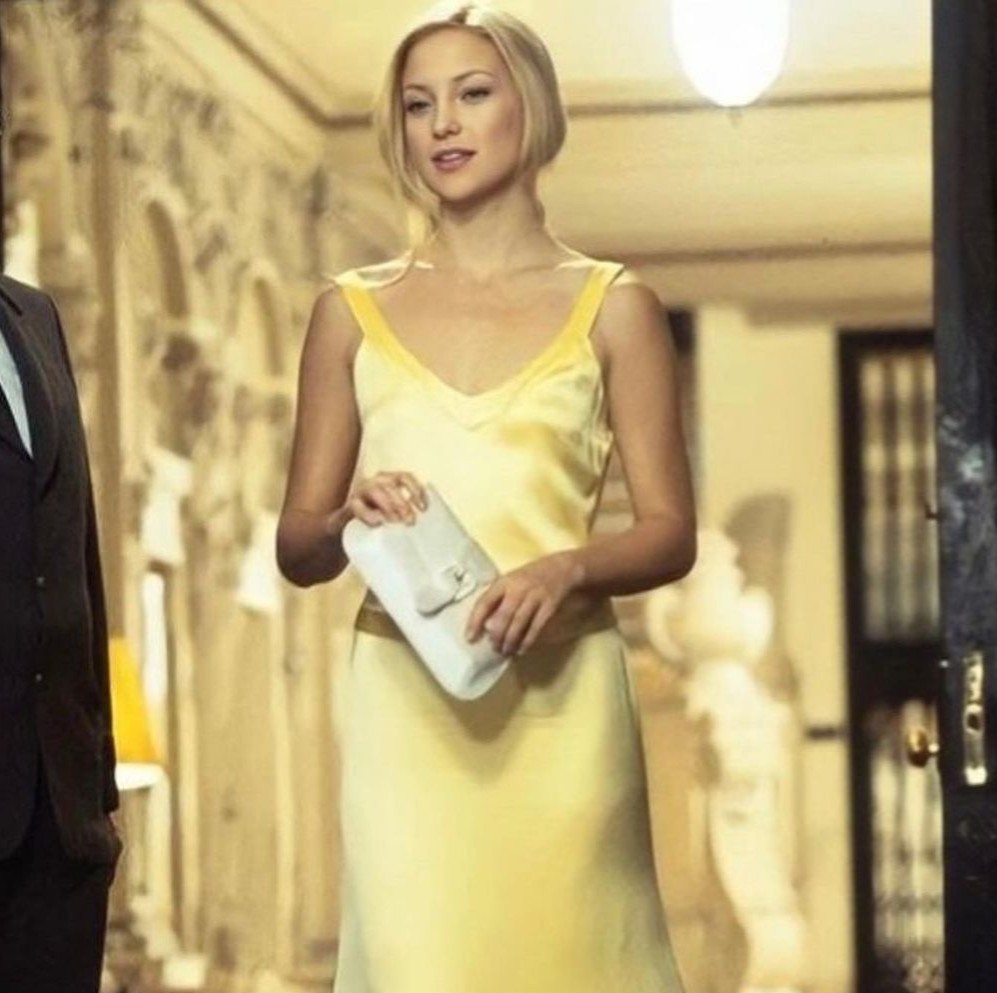 We've Found A Perfect Dupe Of The Iconic Kate Hudson How To Lose A Guy In 10 Days Dress
@RETRO.SZNN_ / INSTAGRAM
We've Found A Perfect Dupe Of The Iconic Kate Hudson How To Lose A Guy In 10 Days Dress
Believe it or not, this week marks 20 years (yes, you read that right!) since How To Lose A Guy In Ten Days came out in theatres. Twenty years since Matthew McConaughey let the love fern die. Twenty years since Krull The Warrior King tinkled on the pool table in a chic plaid sweater and diamond collar. But, most importantly, it's been twenty years since we first laid eyes on that gown… and it's lived rent-free in our minds ever since! Created by the movie's costume designer Karen Patch, and beloved womenswear designer Carolina Herrera, Andie's yellow gown is as stylish now as it was almost two decades ago… and it seems the internet agrees. With the dress still searched by millions every week, we, of course, had to set about finding the perfect dupe…
Slip Into Your Very Own Kate Hudson How To Lose A Guy In 10 Days Dress
Since nobody seems to know what happened to the original Kate Hudson How To Lose A Guy In 10 Days dress  (plus the fact that it was one of a kind!) we've dreamt about finding our own version for two full decades. And, to our unrivaled joy, we've finally found one – the Bermuda dress by Lovers and Friends. It's remarkably similar in so many ways that we added it to our carts the moment we saw it!
Much like Andie's gown, this one boasts a classic V-neckline and a floaty floor-length skirt. It even has a low back and criss-cross straps ensuring a wow moment from every angle. We fully plan on styling the dress just like Kate with a chic low knot bun and loose face-framing tendrils for the ultimate Y2K evening look – which is right on trend for 2023. And, if we happen to come across a dupe of the Isadora diamond necklace, we'll certainly be frosting ourselves (sorry – we had to) with that too!
Shop The LOVERS AND FRIENDS Bermuda Dress
LOVERS AND FRIENDS Bermuda Dress

$

248
Have A Main Character Moment In These Kate Hudson How To Lose A Guy In 10 Days Dress Dupes...
At some point, we've all wished we could step out in the iconic Kate Hudson How To Lose A Guy In 10 Days Dress. Luckily, these designer dupes are about to make that dream a reality. For example, the beaded faux wrap gown by Mac Duggal. Firstly, this breathtaking dress boasts a simple V-neckline with a flattering wrap-style bodice. Secondly, it also has the most beautiful all-over beaded detailing. Not to mention an open back which elevates the look even more.
Meanwhile, are you hoping to give this iconic movie look a modern edge? Look no further than the cutout silk-georgette gown by Etro. It has a beautiful tie waist to accentuate your silhouette. Also, it replaces the V-neckline with a halter and has a cut-out waist for a contemporary twist. Finally, it incorporates a low criss-cross back and a dramatic floor-length skirt giving those unmistakable Andie vibes!
Shop More How To Loose A Guy In 10 Days Dress Styles...
KIKA VARGAS Hilly Plunge-front Taffeta Mini Dress

$

756

BEC & BRIDGE Karina Strapless Sheath Dress

$

280

BARDOT Capri Diamanté Strap Satin Slip Dress

$

139

ENDLESS ROSE Surplice Satin Slip Dress

$

90

ALEXANDER MCQUEEN Off-The-Shoulder Ruched Thigh-Slit Bustier Gown

$

5,990

NBD Evangeline Gown

$

268

HOUSE OF CB Soren Keyhole Cutout Mermaid Midi Dress

$

269

ASTR THE LABEL Malory Bustier Bodycon Mini Dress

$

98

LOVERS AND FRIENDS Karen Mini Dress

$

168

ETRO Tie-waist Cutout Silk-georgette Gown

$

3,029

IEENA FOR MAC DUGGAL Plunge Neck Pleated A-Line Gown

$

498

CINQ À SEPT Beck Silk Cut-Out Midi-Dress

$

445

MAC DUGGAL Beaded Faux Wrap Gown

$

498

LOVERS AND FRIENDS Bermuda Dress

$

248

JASON WU COLLECTION Bow-embellished Pleated Satin-jacquard Midi Dress

$

1,795