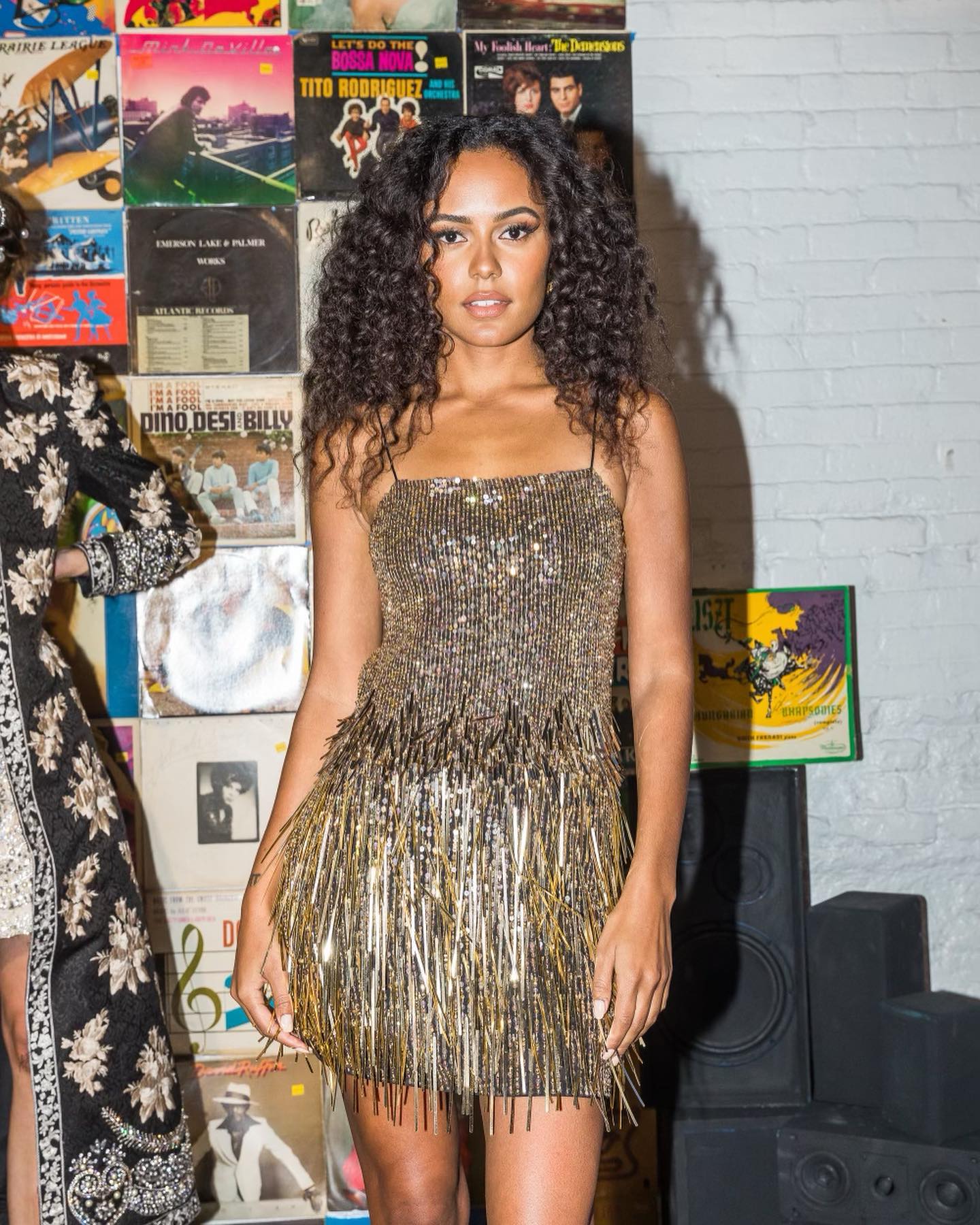 We're Still Swooning Over Ava Dash's Perfect Sequin Cocktail Dress
@AVADASH / INSTAGRAM
We're Still Swooning Over Ava Dash's Perfect Sequin Cocktail Dress
Leave it to Ava Dash to turn up in the most glamorous sequin cocktail dress of the year so far. We're willing to bet even the dresses we'll see during this year's festive season won't serve as hard as this irresistibly sparkly mini! With that in mind, we've been saving similar dresses for the past few weeks that are just like this dreamy silhouette. Keep scrolling to discover and shop all we've found from Givenchy, Isabel Marant, Oscar De La Renta, and more!
Stunning Sequin-Embellished Mini Dresses
Using Ava's ultra-glamorous dress as inspiration, we've been truly spoiled for choice! First on our must-have list? The Maelia cut-out crepe mini dress by Isabel Marant. Firstly, thanks to its all-over sequins, this dress is just as dazzling as Ava's. Secondly, the chic halter neckline, racer back, and relaxed swing fit give it a super-modern edge that we haven't seen on many cocktail silhouettes so far this year. Unsurprisingly, it's is seriously popular so we highly recommend adding it to your cart immediately!
Meanwhile, if you're looking for this season's most luxurious sequin silhouette, look no further than the one-shoulder tulle dress by Givenchy. This dreamy sequin and pearl-embellished mini is supremely flattering and guaranteed to make you feel your most stylish self. Also, we highly appreciate that it'll look just as amazing with metallic heels as it will with your go-to black ones making it perfectly versatile for countless RSVPs.
Shop The ISABEL MARANT Maelia Cutout Embellished Crepe Mini Dress
ISABEL MARANT Maelia Cutout Embellished Crepe Mini Dress

$

3,930
Designer Mini Dresses For Best Dressed Status
One of the many reasons we adore Ava Dash's sequin mini dress? Metallic cocktail dresses like these always make for an unforgettable entrance! So, we're wasting no time adding the Golda dress by ASTR The Label to our lineup. Firstly, we adore the one-shoulder neckline with an asymmetric strap. Secondly, the eternally-flattering bodycon fit and all-over pleating are a match made in heaven. Finally, we recommend you style this dress with classic black heels to offset the chic copper hue.
Also, if you're all about the gorgeous fringe detailing on Ava's dress, the fringe crystal slip dress by Oscar De La Renta is the one for you. Destined to dazzle all that set eyes on it, this unique, 100% silk mini dress is the definition of designer luxury. So, slip it on with your best heeled sandals and prepare for the endless compliments coming your way!
Shop Ava Dash's Style
NENSI DOJAKA Embellished Cutout Sequined Tulle Mini Dress

$

1,688

ISABEL MARANT Maelia Cutout Embellished Crepe Mini Dress

$

3,930

ROTATE BIRGER CHRISTENSEN Hemly Strapless Croc-effect Faux Leather Mini Dress

$

290

GIVENCHY One-shoulder Faux Pearl-embellished Sequined Tulle Mini Dress

$

8,480

ALEX PERRY Logan Strapless Ruched Mini Dress

$

1,400

PACO RABANNE Chainmail Mini Dress

$

3,490

PACO RABANNE Paillette-embellished Chainmail Mini Dress

$

3,690

DRESS THE POPULATION Tatum Sequin Mini Dress

$

218

PACO RABANNE Sequin Embellished V Neck Mini Dress

$

3,590

ALICE + OLIVIA Nelle Embellished Mini Dress

$

330

OSCAR DELA RENTA Fringe Crystal Grid Slip Dress

$

10,990

ASTR THE LABEL Golda Dress

$

138

SNDYS Sunset Dress

$

108

RAMY BROOK Mayrice Strapless Cascade Detail Silk Blend Dress

$

495

MAJORELLE Nyx Dress

$

198

OSCAR DE LA RENTA Sequin & Fringe Skater Dress

$

6,990

RETROFÊTE Mich Draped Embellished Tulle Mini Dress

$

485

H:OURS Imogen Chainmail Dress

$

348