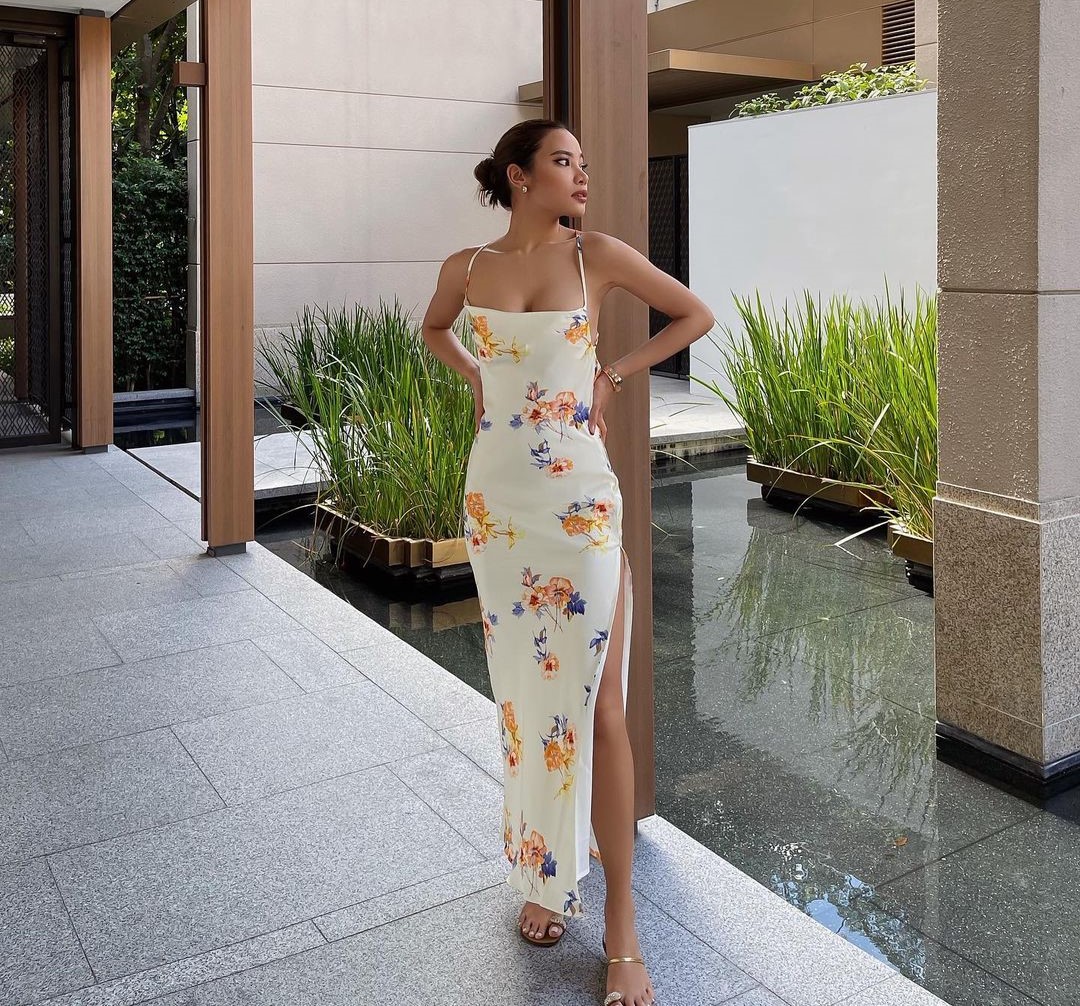 We're Basing Our Entire Summer Closet On Claire Weeranund's Slinky Floral Slip Dress
@CLAIREWEERANUND / INSTAGRAM
We're Basing Our Entire Summer Closet On Claire Weeranund's Slinky Floral Slip Dress
Every so often a dress like this stunning Claire Weeranund slip comes along and gives you all the style inspo you need for the season ahead. From the minute we scrolled by this perfect summer maxi, we knew we'd be basing our warm-weather closet on all its undeniably pretty elements. From the trending square neckline and barely-there spaghetti straps to the all-over floral print and sultry thigh-high split. Everything about this dress has us excited for summer and the dresses we'll be slipping into. Lucky for you, the hard part is already done. We've put our cyber-shopping skills to the ultimate test and put together a super-pretty edit of designer frocks. All of which give us the same style vibes as Claire's coveted summer silhouette…
Floor Length & Florals... A Match Made In Heaven
As much as we adore cutting-edge silhouettes, Claire's timeless floral maxi is the summer dress style we all need. Its pretty floral print is a classic for a reason and the cut of this dress? It's perfection! With that in mind, we plan on slipping into the Cedar city floral satin maxi dress by Bec & Bridge every chance we get. From the sleek satin finish and contrast floral print to the keyhole cut-out bodice and barely-there straps. This must-have maxi is undeniably similar to our inspo dress and will become an instant staple in your warm-weather lineup. Additionally, we're awarding extra style points for the sultry open back with a unique bikini-top-style fastening.
Meanwhile, we're pretty certain that nobody can resist the Capri floral-print maxi dress by Raquel Diniz. Once again, we're swooning over the romantic floral print that's giving us all the same style vibes as Claire's summery silhouette. Additionally, the sweetheart corset, rouleau straps, and belted waist provide a luxurious, tailored edge. And, as if all that wasn't enough, this lightweight white silk-chiffon maxi has the most beautiful yellow and blue floral print. Therefore, it couldn't be more perfect for summer!
Shop The RAQUEL DINIZ Capri Floral-print Silk-chiffon Maxi Dress
RAQUEL DINIZ Capri Floral-print Silk-chiffon Maxi Dress

$

1,480
Spend Summer In Claire Weeranund Inspired Slips Dresses
Thanks to Claire, we've been fully reminded just how much we love wearing designer slip dresses in the sunshine. Therefore, we're wasting no time adding simple silhouettes like the lace-trimmed satin slip dress by Simone Rocha and Iliana floral velvet midi slip by Love Shack Fancy to our lineup. These gorgeous floral-print dresses are the answer to all your last-minute outfit needs. Also, they'll go just as perfectly with flats and sandals as they will with heels this warm-weather season!
Shop Claire Weeranund's Floral Slip Dress Style...
SIMONE ROCHA Lace-trimmed Floral-print Satin Slip Dress

$

830

RAQUEL DINIZ Capri Floral-print Silk-chiffon Maxi Dress

$

1,480

AQUA V-Neck Floral Maxi Dress

$

118

PUPPETS AND PUPPETS Rose Print Halter Neck Maxi Slip Dress

$

1,195

KATIE MAY Come On Home Floral Strapless Cocktail Dress

$

345

ISABEL MARANT ÉTOILE Giana Ruched Tiered Floral-print Cotton-voile Maxi Dress

$

750

BEC + BRIDGE Gold Dusty Palms Maxi Dress

$

300

YUMI KIM Baxter Maxi Dress

$

248

AGUA BY AGUA BENDITA + Net Sustain Lima Tiered Floral-print Linen Maxi Dress

$

920

LOVESHACKFANCY Iliana Floral Velvet Midi Slip Dress

$

575

GUESS Akilina Floral Print Satin Midi Dress

$

138

FAVORITE DAUGHTER The Favorite Floral Satin Slip Dress

$

218

MARIA CHER Altea Isabel Slip Dress

$

650

BEC & BRIDGE Cedar City Floral Satin Maxi Dress

$

300

REFORMATION Kourtney Floral-print Dress

$

248