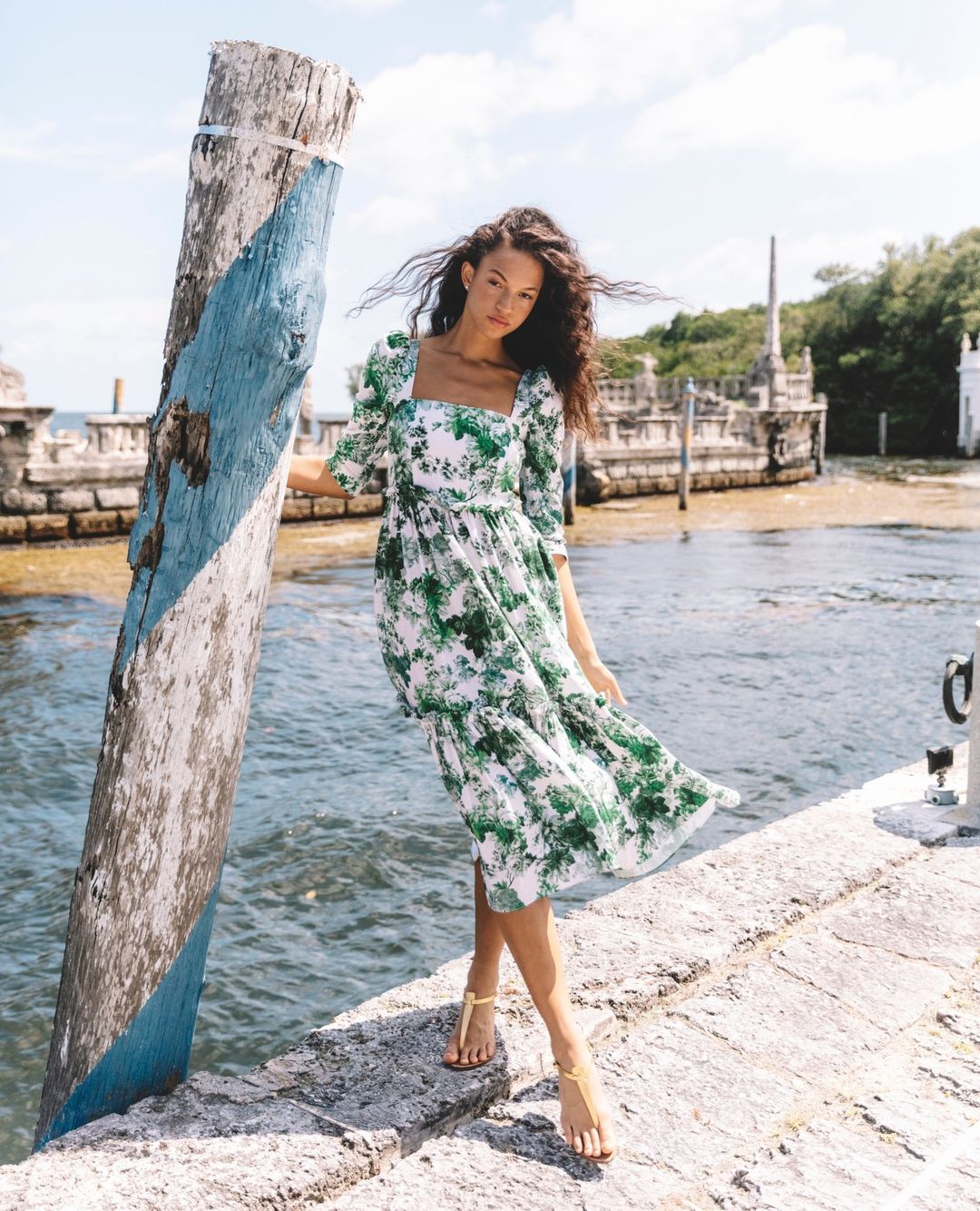 These Gorgeous Long-Sleeve Floral Dresses Will See You Stylishly Through to Spring
@CARACARA_NYC / INSTAGRAM
These Gorgeous Long-Sleeve Floral Dresses Will See You Stylishly Through to Spring
When it comes to looking stylish from season to season, you can always count on long-sleeve floral dresses to get the job done right. We're pretty sure there's no more popular print and for good reason too. Florals are incredibly versatile, come in countless colorways, and, maybe best of all, they never fall out of fashion. Therefore, with winter well underway and spring on the horizon, we just couldn't help ourselves. We've gone ahead and put together a dreamy edit of must-have floral dresses with long sleeves that'll keep looking and feeling your most stylish self whilst staving off any chill in the air until spring comes! So, without further ado, let us present our top 30 picks from Likely, Reformation, Erdem, Cara Cara, and more…
Long-Sleeve Floral Dresses For An Effortless Off-Duty Look
Forget Monday to Friday, we're all about the long-sleeve floral dresses we get to rock on our hard-earned off-duty days! Therefore, it'll come as no surprise we picked out the Midnight Blossom dress by Dorothee Schumacher. Firstly, this dress is super versatile and will look just as good now with boots and outerwear as it will with flats and sandals this spring. Hey – you can even rock this one with heels! Secondly, the all-black design punctuated with white floral detailing is an absolute classic that coordinates oh-so-perfectly with the long blouson sleeves and ankle-length hem. So, pair yours with leather ankle boots and expect lots of 'where did you get that?' coming your way this weekend!
Additionally, if it's your weekend evenings you're shopping for, ASTR The Label has you covered. Their Jamila dress is, in a word, stunning! It boasts a sweetheart neckline, statement shoulders, long sleeves, and a sleek thigh-high split in the skirt to show off a glimpse of your legs as you walk. We're also loving the super romantic all-over red floral print that seems made for next month's Valentine's day plans whatever they may be. Therefore, we plan on styling ours with a gorgeous pair of heeled designer sandals to lengthen the silhouette and make the most of this swoon-worthy floral midi!
VINEET BAHL Embroidered Long-Sleeve Dress

$

248

O PIONEERS Martha Pussy-bow Floral-print Cotton Mini Dress

$

508

O PIONEERS Willa Pintucked Floral-print Cotton Dress

$

538

O PIONEERS Prudence Ruffled Floral-print Cotton Midi Dress

$

538

FARM RIO Open-back Printed Georgette Maxi Dress

$

315

IEENA FOR MAC DUGGAL Floral Long Sleeve Tiered Gown

$

798

EN SAISON Floral Ruffle Long Sleeve Eyelet Mini Dress

$

188

FARM RIO Sweet Floral Long Sleeve Mini Dress

$

245

REFORMATION Pennie Floral Long Sleeve Midi Dress

$

278

REFORMATION Chrisley Floral Print Silk Wrap Dress

$

278

LIKELY Clarita Dress

$

228

AMANDA UPRICHARD Collier Dress

$

238

MISA Virginie Dress

$

495

ASTR THE LABEL Francesca Floral Print Maxi Dress

$

158

SUNDRY Floral Boho Mini Dress

$

284

ASTR THE LABEL Jamila Dress

$

138

CURRENT AIR Forest Floral Midi Dress

$

150

DOROTHEE SCHUMACHER Midnight Blossom Dress

$

900

CURRENT AIR Floral Jacquard Mini Dress

$

145

CURRENT AIR Botanical Ruffle Trim Midi Dress

$

155

ERDEM Karla Dress

$

1,446

SACHIN & BABI Jasmine Dress

$

575

FREEPEOPLE Valeria Maxi Dress

$

198

ARIANNE ELMY Organza Good Luck Dress

$

375

DRIES VAN NOTEN Dalba Floral Midi Dress

$

2,025

CARA CARA Blue Hill Square-Neck Midi Dress

$

695

JEN'S PIRATE BOOTY Baroque Hyacinth Gown

$

286

KOBI HALPERIN Alessi Tiered Floral-Print Mini Dress

$

698

BATSHEVA + Laura Ashley Rhys Belted Crochet-trimmed Cotton-poplin Mini Dress

$

225

REFORMATION Sigmund Floral-print Dress

$

248
Long-Sleeve Floral Dresses For Every Occasion
If you thought long-sleeve floral dresses were only for nights out, you can think again! They'll work literally any time and we have the proof right here. The Forest floral midi dress by Current Air is a dream come true. And, it'll look incredible with casual boots for your low-key daytime plans. Initially, we were wowed by the elegant forest green hue and adorable ditsy floral print. Then, we became mesmerized by the floaty floral skirt and ruffle detailing on the classic v-neckline. All in all, this dress won us over the moment we laid eyes on it and, once you try it on, we know you'll never want to take it off. So, go ahead and get your go-to ankle boots ready because this dress was made to go with them!
Shop All Long-Sleeve Floral Dresses