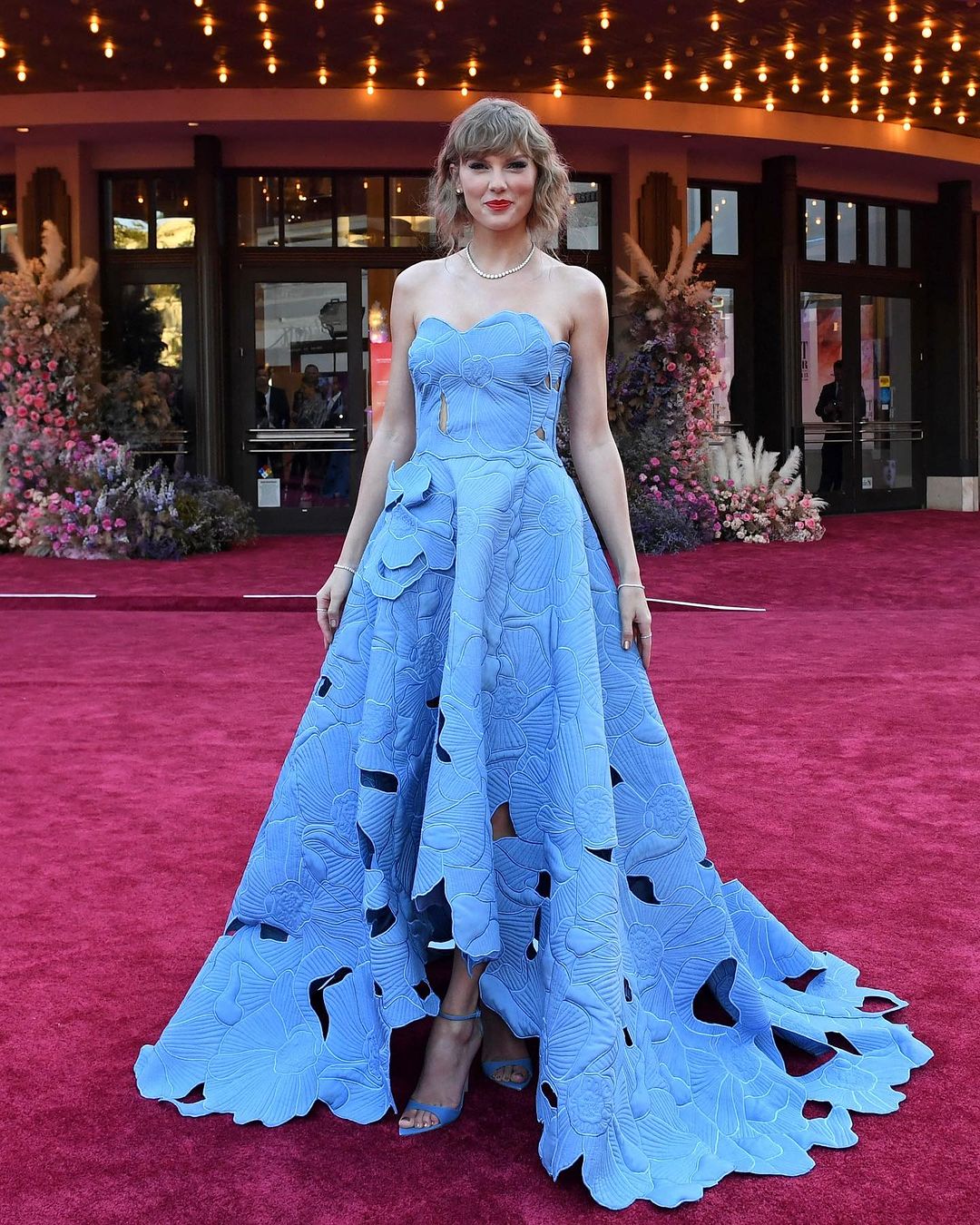 @OSCARDELARENTA / INSTAGRAM
Taylor Swift's Iconic Oscar De La Renta Gown Has Us Covering Beautiful Blue Dresses
Let's be honest, when it comes to Taylor Swift, we want to own every single thing she wears. And this dress? of course, it's no exception. The moment we laid eyes on this beautiful blue gown, we knew we had to own something similar to recreate her iconic look. To our joy and surprise, we had no trouble finding silhouettes in remarkably similar colorways. What's more, we found dresses in all different styles so that, no matter what your plans are for the weeks ahead, you can look and feel just as stunning as Taylor!
Long Blue Designer Dresses Like The Taylor Swift Gown
If you're looking to get just as dressed up as Taylor did on the red carpet, you're in luck. Thanks to the world's leading designers, including Oscar De La Renta, the designer of Taylor's dress, we've been able to put together an unbelievably gorgeous lineup of blue gowns. Firstly, we're turning our attention to the Gardenia duipure-lace maxi dress because, frankly, it demands that we do! Designed by Oscar De La Renta, this stunning blue gown boasts that coveted cornflower blue hue. It also offers all-over floral detailing, this time in luxurious lace. Our advice? Style yours as Taylor did hers with matching blue sandals, silver jewelry, and a bold red lip!
Another blue floral accent dress we're swooning over? The Aisling gown by Majorelle. Firstly, we've fallen head over heels for the soft shade of blue and 3D floral detailing on this sleek designer maxi dress. Secondly, the Fitted, corset-style bodice, ruffle trim, and sheer lace skirt mean this gown stuns at every turn. So, go ahead and style it with coordinating heeled sandals and silver accessories for a wintery ensemble you'd be proud to wear on repeat.
Shop The OSCAR DE LA RENTA Gardenia Guipure-Lace Maxi Dress
OSCAR DE LA RENTA Gardenia Guipure-Lace Maxi Dress

$

4,990
More Blue Dresses Inspired BY Taylor Swifn
Fully in our Taylor Swift era thanks to this iconic blue style moment, we've been searching for similarly colored dresses to stock our closets with. A favorite we found? The ruched tulle mini dress by Zimmermann. Firstly, this fairytale mini dress is every bit as pretty and romantic as Taylor's Secondly, with the winter weather in mind, we'll be opting for mini dresses with long sleeves very soon, and cannot wait to slip into this undeniably beautiful tulle creation. Especially with our favorite metallic party heels!
Finally, who could resist the Sky Lily embroidered midi dress by Sister Jane? Not us. Every inch as playful and certainly as pretty as Taylor's dress, we'll be slipping into this one for everything from dinner dates to festive cocktail parties this season. Our advice? Accessorize with chunky heels and a cute clutch for the ultimate cool winter evening outfit.
Shop More Taylor Swift Dress Styles...
OSCAR DE LA RENTA Gardenia Guipure-Lace Maxi Dress

$

4,990