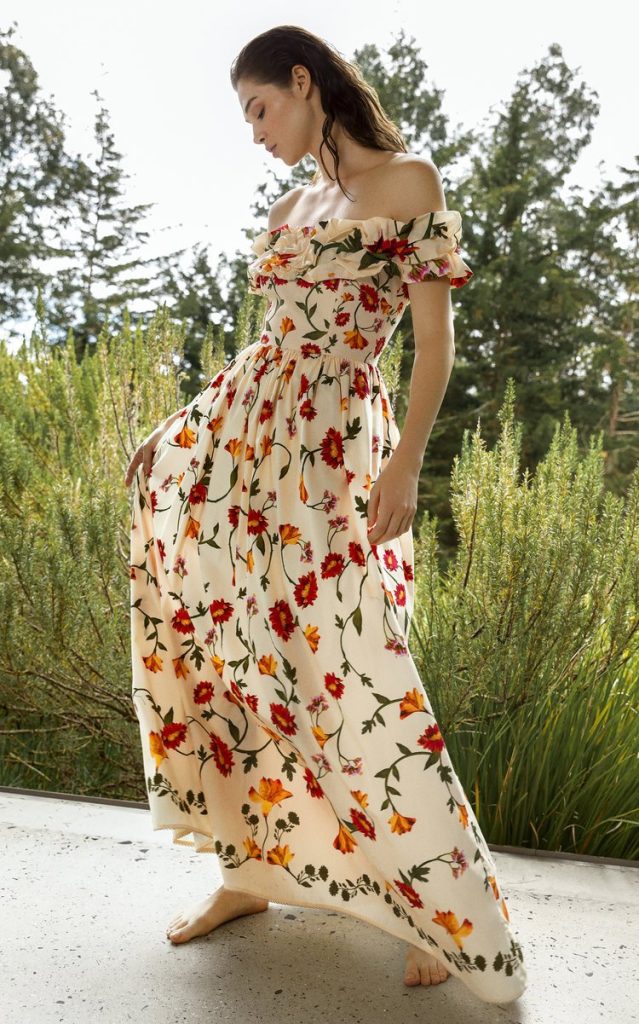 Spring & Summer Vacation Dresses We're Already Eyeing For Warmer Weather
AGUA BY AGUA BENDITA
Spring & Summer Vacation Dresses We're Already Eyeing For Warmer Weather
There might still be a chill in the air but we're living for the promise of warmer days and beautiful spring/summer vacation dresses right around the corner. With that idea planted firmly in the front of our minds, we're already bookmarking (and let's be honest, shopping) the best vacation dresses our fave designers have to offer. Since you're here, we're guessing you're doing the exact same and we totally get it! Keep scrolling to discover all the latest must-have dresses from Johanna Ortiz, Free People, Zimmermann, Endless Summer, and more…
Must-Have Maxi Summer Vacation Dresses
When it comes to summer vacation dresses, maxi-length silhouettes will always hold a special place in our hearts… and our closets. Pretty much unbeatable in terms of effortlessly stylish throw-on-and-go looks, we're making sure our vacation lineups are brimming with all the most sought-after styles. For example, the Lima Sabanero DOrado linen maxi dress by Agua by Agua Bendita. This stunning, soft saffron shade is so unique and simply irresistible. Additionally, we adore the all-over white floral appliques, sleek square neckline, and romantic, tiered, floor-length skirt.
Meanwhile, the Santa Maria maxi dress by Endless Summer is the maxi dress every fashion person needs this coming spring and summer. Firstly, it'll go with every pair of sandals and every piece of jewelry you pair it with. Secondly, it's the ultimate beach-to-bar look that takes minimal planning yet looks outstanding every time. You'll adore the all-white design, plunge V-neckline, flattering elasticated waist, and sultry open back. Trust us, no vacation closet will be complete without it.
ZIMMERMANN High Tide Floral Print Dress

$

1,950

ANTHROPOLOGIE Ruched Square-Neck Dress

$

190

ZIMMERMANN High Tide Mini Dress

$

1,600

ZIMMERMANN High Tide Lantern Mini Dress

$

1,100

JOHANNA ORTIZ Sociedades Antiguas Silk-crepe Wrap Midi Dress

$

1,563

AGUA BY AGUA BENDITA Lima Chivas Linen Maxi Dress

$

920

AGUA BY AGUA BENDITA Espliego Oasis Off-Shoulder Cotton Maxi Dress

$

780

FREEPEOPLE Dorothy Gayle Maxi Dress

$

350

ENDLESS SUMMER White Cross My Heart Maxi Dress

$

118

ENDLESS SUMMER Blue Ruffle It Up Midi Dress

$

108

ZIMMERMANN Laurel Frilled Cotton & Silk Maxi Dress

$

1,150

FREEPEOPLE Groovy Baby Maxi Kaftan Dress

$

98

ENDLESS SUMMER Santa Maria Maxi Dress

$

128

JOHANNA ORTIZ Africa Oriental Print Tunic Dress

$

1,750

FREEPEOPLE Red Southwest Lace Maxi Dress

$

198

CURRENT AIR Sereia Botanical Motif Midi Dress

$

158

VERONICA BEARD Kadar Belted Paisley-print Linen Maxi Dress

$

798

VERONICA BEARD Pasha Ric Rac-trimmed Cotton And Linen-blend Mini Dress

$

698

ANTHROPOLOGIE Buttondown Dress

$

170

GLAMOROUS Tiered Maxi Wrap Dress

$

44

ZIMMERMANN Clover Tie Front Midi Dress

$

695

REBECCA VALLANCE Catalina Puff Sleeve Midi Dress

$

629

HEMANT AND NANDITA Tula Long Dress

$

549

CAROLINE CONSTAS Zuri Dress

$

695

ZIMMERMANN High Tide Halter Mini Dress

$

1,350

ZIMMERMANN High Tide Frilled Mini Dress

$

695

HEMANT AND NANDITA Tula Kaftan Dress

$

566

AGUA BY AGUA BENDITA Lima Sabanero Dorado Linen Maxi Dress

$

1,500

MILLY Liv Pleated Long Sleeve Dress

$

395

ALEMAIS Marta Paisley-print Shirt Dress

$

540
Sleeved Spring/Summer Vacation Dresses To Kick Off Vacation Season
Scorching temperatures might be a while off yet, but these perfect spring/summer vacation dresses have us stylishly covered until then. For example, the Africa Oriental print tunic dress by Johanna Ortiz is one of the most iconic vacation silhouettes we've laid eyes on so far this year. The striking plunge V-neckline, kimono-style sleeves, and relaxed, floor-length fit are giving us all the tropical vacation vibes. Not to mention, we can't get over that stunning print and scene-stealing deep orange hue.
Last but by no means least, we're crushing hard on the Marta paisley-print shirt dress by Alemais. The perfect pastel shades, classic collared neckline, and long blouson sleeves make for an effortlessly elegant silhouette. Our advice? Add this beautiful maxi dress to any and all European vacation lineups for the foreseeable!
Shop All Summer Vacation Dresses