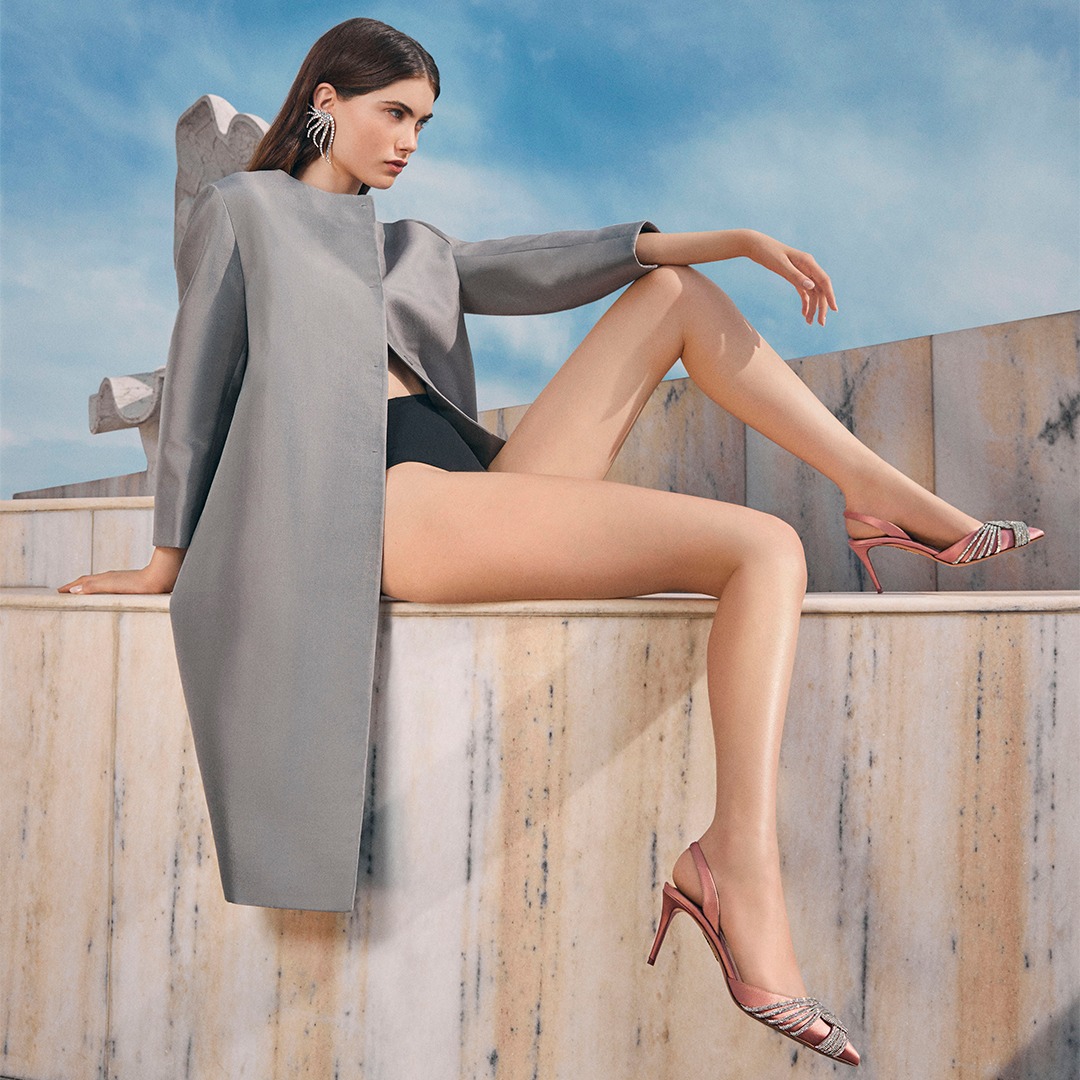 @AQUAZZURA / INSTAGRAM
Sparkly Evening Heels For Every Event On Your F/W Calendar
With the arrival of fall and party season right around the corner, we're willing to bet that sparkly evening heels are at the top of your wishlist right now. An. whether you're all about all-over glittery styles or those with crystal embellishments, we have the heels you'll want to step out in no matter the occasion. We've even found the most amazing pumps with sparkly straps for just a hint of sparkle when the dress code calls for something truly chic and a little more subtle! Keep scrolling and prepare to fall in love with every pair of heels on our list. We've included only the most sought-after designer evening shoes from Aquazzura, Valentino, Jimm Choo, Steve Madden, and more…
Chic Sparkly Evening Heels For Black Tie Dress Codes
With plenty to celebrate this fall and winter, we're turning our attention to sparkly evening heels that'll instantly elevate our outfits. Especially outfits fit for black tie events. So, from weddings to red carpet nights, the shoes will be the star of any look you pair them with. For example, who could possibly resist the allure of Jimmy Choo's Platinum Ice glitter sandals? Firstly, these flawless heeled sandals with go with countless after-dark dresses already in your closet. Secondly, their timeless all-over silver glitter finish and signature crystal straps will stay in style for years to come. Therefore, you know you're making a worthy investment! So, step out in these heels with an elegant evening dress and prepare for all the compliments coming your way.
Additionally, if you're searching instead for a simple slip-on style, look no further than the crystal-embellished 110mm mules by Bettina Vermillon. We've loved these heels from the moment we laid eyes on them. And it's not only because of the sky-high heels and crystal-adorned straps. We're also smitten with the mirror-like finish which adds a modern touch to every outfit you pair them with. Add these to your evening footwear lineup and feel incredible every time you step out for an event.
Sparkly Evening Heels You Won't Want To Miss
With so many gorgeous sparkly evening heels to choose from, it's easy to miss out on some of the season's true gems. Luckily, we've done the research for you so these particularly incredible styles won't pass you by. For example, the Comet 105 pumps by Aquazzura might be our favorite heels for fall and winter 2023! Firstly, they boast the most beautiful, smoked mirror-style finish. Perfect for this time of year and for adding a subtle patent edge to your look. Now, when it comes to the sparkle element, these shoes have a stunning anklet strap, embellished with star-shaped crystals and a lobster clasp fastening. Opt for these shoes whenever you want to feel eternally pretty and undeniably elegant at the same time!
Last but by no means least, the Azia 95 champagne glitter leather pumps by Jimmy Choo are the ultimate silver evening shoes. With pointed toes, wavy criss-cross style straps, and subtle ankle clasps, these gorgeous glitter-effect heels will be your ultimate go-to for party season!
Shop All Sparkly Evening Heels