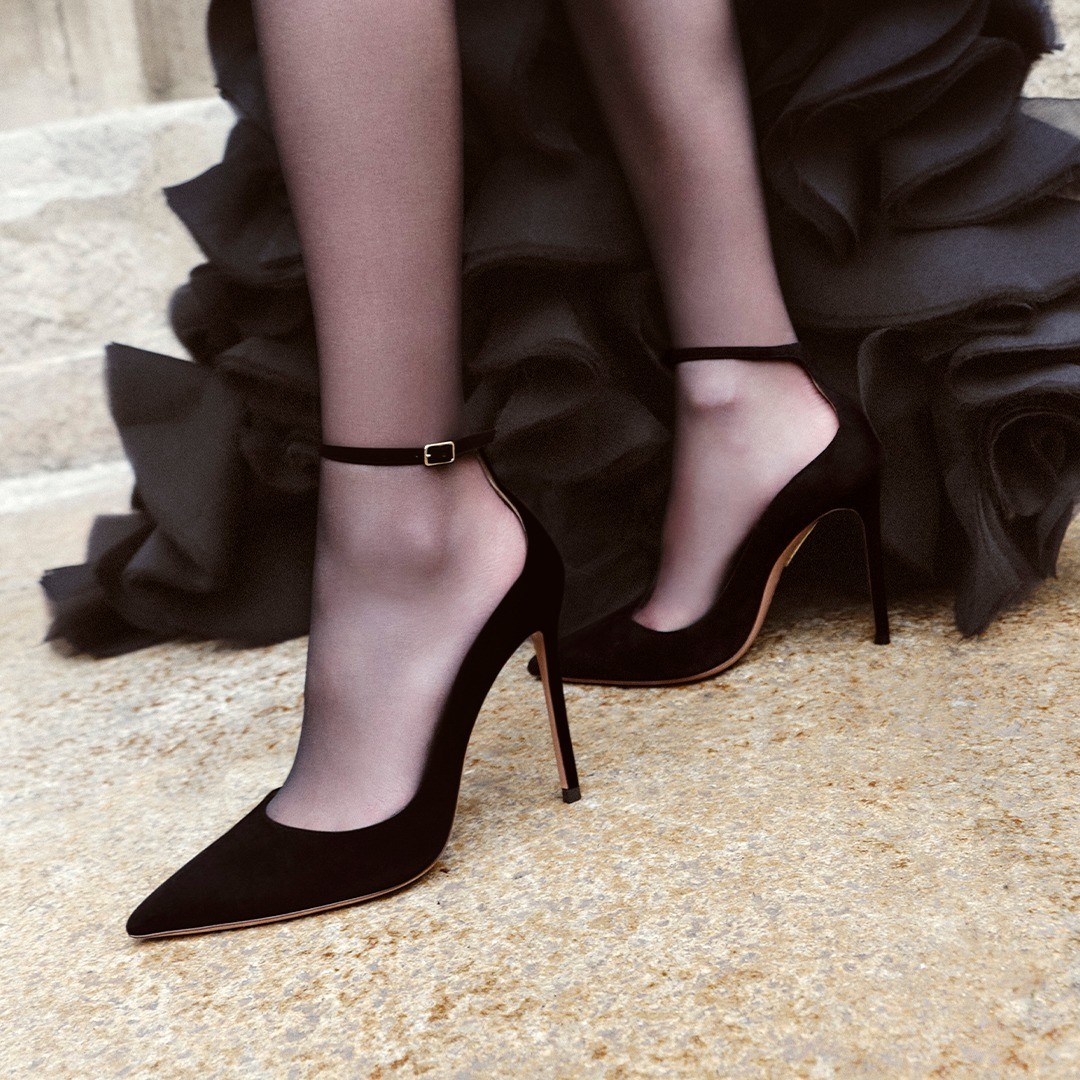 Quiet Luxury Is Everywhere, Embrace The Trend With These Chic Designer Heels
@AQUAZZURA / INSTAGRAM
Quiet Luxury Is Everywhere, Embrace The Trend With These Chic Designer Heels
If you've been anywhere near the internet lately, you'll know that 'quiet luxury' is set to be the hottest trend of 2023 – cue the chic designer heels. That said, calling it a 'trend' seems pretty counter-intuitive seeing as the whole purpose of the look is to dress in minimalist, high-quality pieces. Pieces that'll stand the test of time both in terms of quality and style so your closet is eternally stylish and free of 'trending' fast fashion items. Now, since we're all for investing in classic dresses and shoes that we can wear for many seasons to come, we're taking full advantage of this opportunity. Below is our brand new edit of designer shoes selected for their unmistakable nod to quiet luxury. Our advice? Add your faves to your cart now before they inevitably sell out!
Nail Quiet Luxury In Neutral Tones
One of the many reasons so many people love chic designer heels in the Quiet Luxury style? It's all about embracing simplicity, not least with subtle, neutral colorways that work seamlessly with all the other staple items you own. For example, the Kiss 105 patent leather slingback pumps by Saint Laurent are the ultimate Quiet Luxury pumps for both work and weekend plans. These timeless ivory pumps will look amazing with chic spring and summer work dresses from Monday to Friday. However, they'll also pair perfectly with your off-duty silhouettes for formal summer soirees.
Meanwhile, if you prefer your heels with a little more texture, the Penny loafers by Le Monde Beryl are ideal. Serving two popular trends in one, these shoes boast an adorable Mary Jane style silhouette in a neutral sandy tone. Therefore, they'll go just as well with low-key, tailored pieces and dresses in similar colorways as they will with a classic pair of jeans and a cashmere sweater.
SAINT LAURENT Dive 110 Embellished Satin Mules

$

1,050

AQUAZZURA So Nude Sandals

$

695

BOTTEGA VENETA Padded Leather Sandals

$

1,200

JIMMY CHOO Rosalia 65 Patent Leather Pumps

$

725

ALAÏA Oeillets Embellished Leather Sandals

$

850

ALEXANDRE VAUTHIER 105mm Pumps

$

795

AQUAZZURA Bow Tie 105mm Pumps

$

850

GUCCI Marmont GG T-Strap Sandal

$

1,050

PRADA Décoletté Logo Slingback Mary Jane Pump

$

1,200

Nº21 Slingback Leather Pumps

$

830

NODALETO Bulla Bacara Mary-jane Pumps

$

765

GIUSEPPE ZANOTTI Intriigo Allure 90mm Mules

$

995

GUCCI Petite Double GG Leather Slingback Pumps

$

940

ALEXANDRE BIRMAN Clarita Easy Leather Slingback Sandals

$

595

ALEXANDRE BIRMAN Women's Clarita Asymmetric Slingback Pumps

$

595

SAINT LAURENT Kiss 105 Patent Leather Slingback Pumps

$

925

JIMMY CHOO Basil 75 Ruched Leather Pumps

$

1,050

LE MONDE BERYL Penny Loafers

$

535

PRADA 45MM Leather Slingback Pumps

$

1,250

JIMMY CHOO Azia 95MM Patent Leather Sandals

$

850

CHRISTIAN LOUBOUTIN Suprastrap 85 Suede Pumps

$

845

JIMMY CHOO Zania 65 Leather Mules

$

725

AQUAZZURA Tessa 105 Leather Sandals

$

690

TOTEME The T-strap Point-toe Faille Pumps

$

650

JIMMY CHOO Diamond Tilda Slingback Pumps

$

925

JENNIFER CHAMANDI Giuseppe 85 Leather Mules

$

695

JIMMY CHOO Bing Crystal-Embellished Patent Leather Mules

$

995

AQUAZZURA Ari 105mm Leather Sandals

$

580

AQUAZZURA Love Affair Patent Leather Pumps

$

825

CHRISTIAN LOUBOUTIN Iriza 85 Patent-leather Courts

$

775
Classic Designer Heels For Every Occasion
When it comes to Quiet Luxury, chic designer heels take on many different forms. For example, if you're heading to a meeting, you don't need to rock super-high heels for an elegant finish to your look. With Quiet Luxury, you can step out in a lower heel that's just as chic – like the Zania 65 leather mules by Jimmy Choo. Firstly, these effortlessly cool slip-ons will work from work to weekend and from day to night. Secondly, they're the ideal warm-weather shoe for spring and summer looks!
Alternatively, when only a stiletto heel will do, we totally get it. In this case, we highly recommend slipping into a pair like the Love Affair pumps by Aquazzura. Firstly, these shoes are supremely chic and will go with countless items in your closet. Secondly, thanks to their simple silhouette and al-black design, they'll stay in style season after season. Our advice? Get your hands on them quickly – they won't be in stock for long!
Shop All Chic Designer Heels