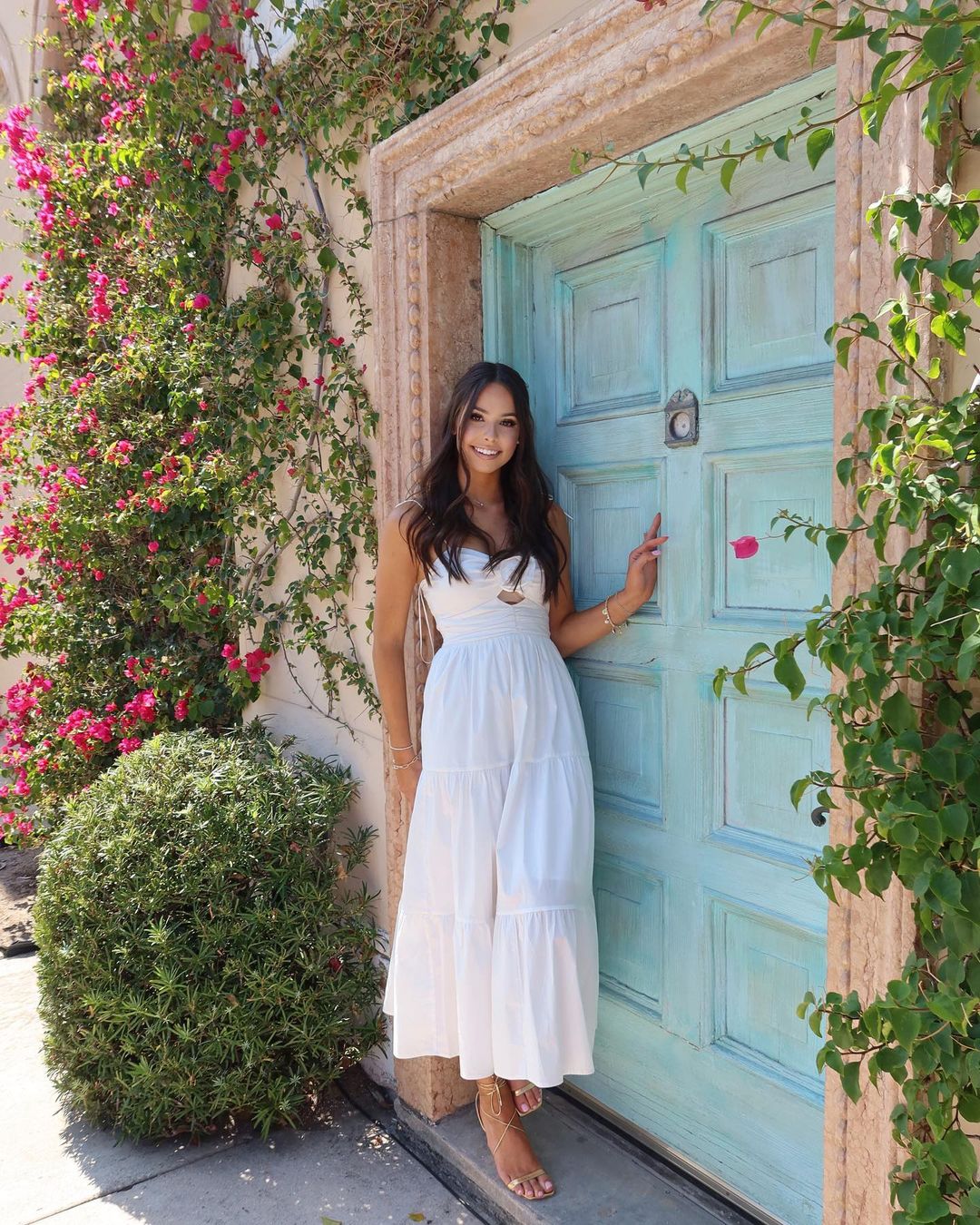 @MADISON_BISSETT / INSTAGRAM
Madison Bissett's Tiered White Midi Dress Is Perfect… And We've Just Tracked It Down
If you're looking for the ultimate summer dress inspo, Madison Bissett has you covered. Recently spotted in this timeless, tiered white midi, we've been on the hunt for a dress just like it ever since. And, whilst we did find plenty of gorgeous white dresses pretty enough to rival Madison's, we also found the exact dress she has on. And it's good news – it's still in stock! That said, we don't imagine this one will stay available for long. It's the perfect silhouette for summer's spent closer to home and on vacation. So, our advice? Keep scrolling and get your hands on it (and, you know, maybe a couple of others too!) before it's gone for good…
Madison Bissett's Perfect White Midi By WAYF
It might sound over the top, but tracking down Madison Bissett's white, tiered dress has changed the game when it comes to dressing for summer events! From the fitted, cut-out bodice and 3D floral applique detaling, to the barely-there, tie-up spaghetti straps and tiered, mid-length skirt. We love every deatil this dress has to offer and can't wait to wear it to multiple summer events. Additionally, thanks to its classic silhouette and monochromatic design, you can wear it for every summer RSVP. (Other people's weddings aside!) So, make sure you add the Victoria tiered ruffle cotton dress by WAYF to your cart before it's too late. This dress will be infinately popular this season and, final warning, we're certain it'll sell out!
Shop The WAYF Victoria Tiered Ruffle Stretch Cotton Dress
Tiered White Dresses For Every Summer Event
As Madison Bissett so perfectly demonstrates, tiered white midi dresses are a summer wardrobe staple. They're as perfect for running errands (in effortlessly elegant style!) as they are for summer soirées and everything in between. With that in mind, we highly recommend adding the Juniper Cloisters linen embroidery dress by Miguelina to your cart. Firstly, this dress boasts a stunning tiered maxi silhouette with the prettiest lace detailing. Secondly, we're still swooning over the tie-up ribbon straps that add an undeniably romantic edge. Style this dress with everything from flats to heels as you'll look truly beautiful either way.
Additionally, Helsa's Poplin Midsummer dress is the ultimate throw-on look for summer. Simple to wear with flats, sandals, or heels, you'll be reaching for this one all season long. Meanwhile, we love the effortless elegance this simple white dress offers and will continue to offer for years to come!
Shop Madison Bissett's Dress Style...