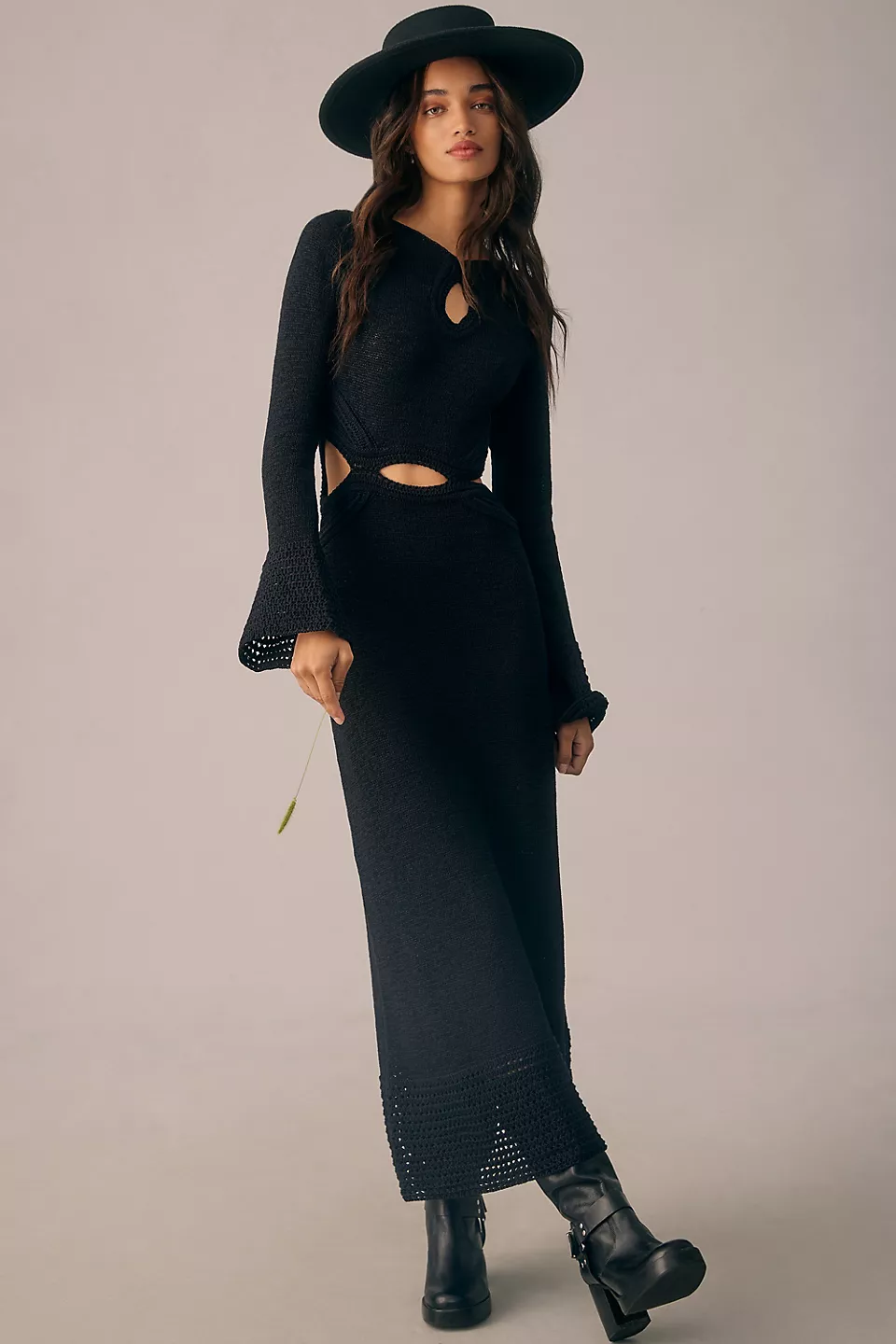 ANTHROPOLOGIE
Luxury Knitted Designer Dresses For Cozy Season
Cozy season is finally here, time to break out the knitted designer dresses! Whilst we so enjoyed the summer sunshine (and all of the floaty sun dresses that came with it!) we've been waiting patiently for this moment for months. Now, these chic and cozy dresses couldn't be more perfect for fall, and we're beginning to style them with our go-to boots! So, if like us you're more than ready to slip into something more comfortable, yet still utterly chic, on a daily basis, you've come to the right place. Below are our top knitted picks for looking and feeling eternally stylish for the fall and winter weather ahead. So, will it be a luxurious, long-sleeved silhouette from Ganni or Anthropologie? Or, a mini, fitted design courtesy of Isabel Marant or Self Portrait?  We have a sneaking suspicion the answer might just be both!
Maxi Knitted Designer Dresses For Fall
When it comes to fall weather, knitted designer dresses are all we want to wear. With long sleeves, an ankle-length hemline, and a cozy knitted construction, you'll stay warm and cozy whilst looking eternally stylish no matter when or where you wear them. The best part? These dresses work for both dressier and more casual plans! Therefore, you'll find us slipping into dresses like the Amberlie crochet-knit cotton maxi dress by Clea on repeat. This gorgeous dress will go with every pair of boots you pair it with. Not to mention, it'll work for everything from low-key work days to weekend plans. In terms of style, the classic round neckline, long sleeves, and maxi-length hem make up the ultimate fall silhouette. Add this to your lineup and never be stuck for a fall outfit again.
Meanwhile, if it's a lighter hue you're looking for, we highly recommend the Dao brushed ribbed-knit maxi dress by Jacquemus. This long-sleeved, maxi-length dress is undeniably stylish. You'll look and feel your chicest self every time you slip this dress on! Pair it with boots and your favorite jewelery for a throw-on-and-go outfit you'll come back to again and again. Finally, it'll work for countless plans whether it's a work lunch, weekend coffee date, or even a low-key dinner event!
Extra Special knitted Designer Dresses To Buy Before They Sell Out
Don't get us wrong, we adore every one of the knitted designer dresses on our list. That said, there are a few designs we consider extra beautiful and highly recommend you add to your cart before they're inevitably gone for good! For example, the Luminosity space-dyed ribbed-knit midi dress by Zimmermann. Firstly. this striking striped midi dress boasts the most beautiful multi-colored print in muted fall colors. We adore the unusual mix of soft pink, khaki green, light blue, mustard yellow, and lilac. Secondly, this stand-out dress will look just as amazing as good with boots as it does with heels. That makes it not only one of the prettiest dresses on our list, but also one of the most versatile.
Lastly, when the dress code calls for smart silhouettes only, you can't go wrong with the sequined Boucle-knit mini dress by Self Portrait. Sleek, structured, and seriously stylish, we love everything about this collared, cream mini dress. Even the pockets and button detailing are the chicest we've ever laid eyes on! So, go ahead and style this with heels for your next event. Then, prepare for the endless compliments you'll receive from the moment you make your entrance!
Shop All Knitted Designer Dresses