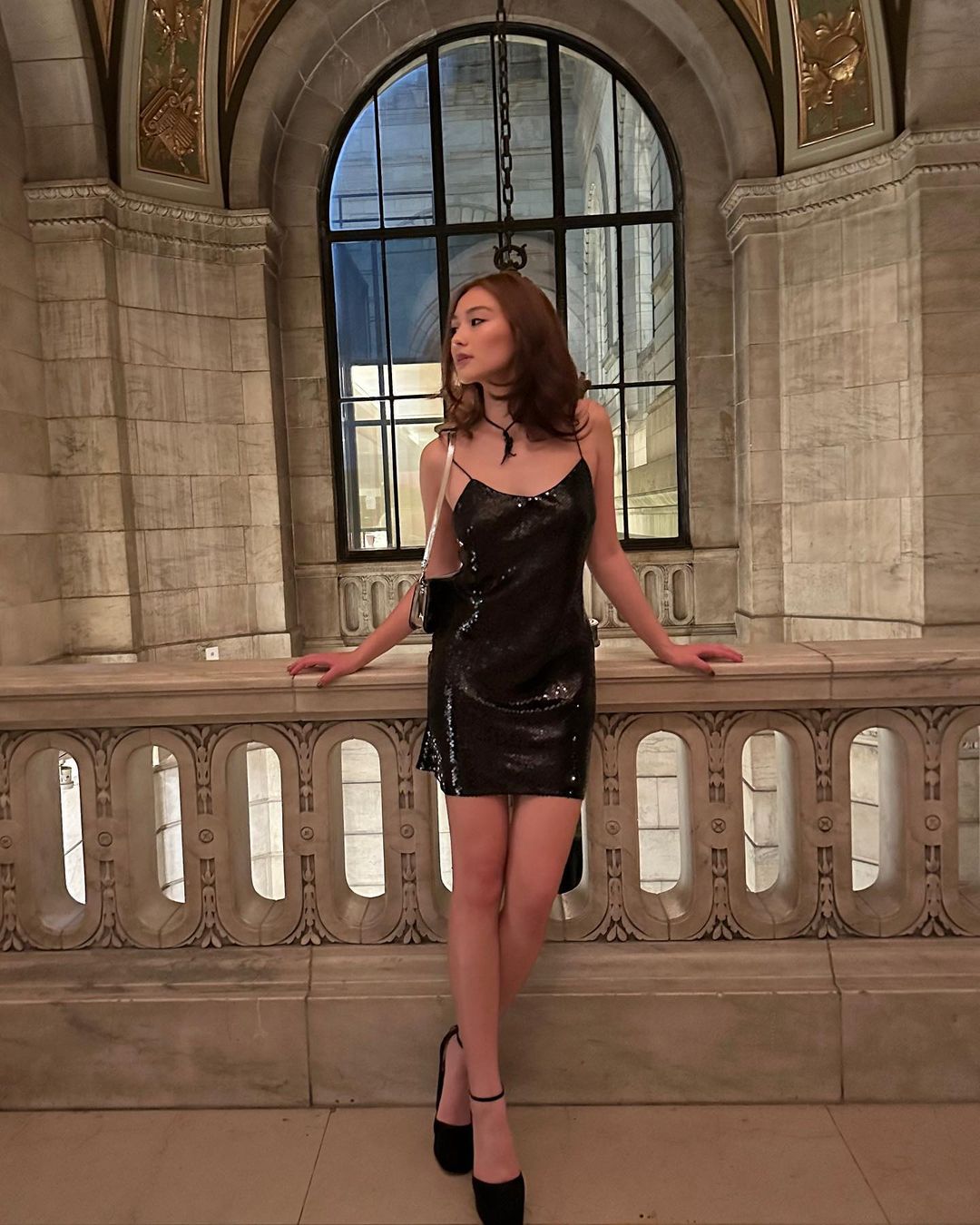 @LOLA.TUNG / @INSTAGRAM
Lola Tung's Sparkly Mini Dress Was Made For Party Season
When you have a dress as pretty as the one Lola Tung just wore, making a memorable entrance is easy. From the simple slip-on style and classic V-neckline to the dainty spaghetti straps and short hemline. This dress is understated, versatile, and pretty much guaranteed to never go out of style. Since we could all do with dresses like this in our after-dark lineup, we could think of no better time to put together an edit of similar silhouettes. Lucky for us, the world's most beloved fashion designers appear to be just as passionate about them as we are. Therefore, we've found plenty of little black sparkly dresses you'll want to shop now and wear forever…
Little Black Dresses To Dazzle In
There's no better time than fall to start shopping for little black dresses with some added sparkle. And, thanks to our love of this Lola Tung dress, we have all the inspiration we need. So, is it a near-identical dress you're hoping to step out in? Look no further than the sequined crochet mini tank dress by Matteau. This dress boasts pretty much everything Lola's does. All you'll need is to add a simple black clutch and some block heels to finish the look!
Additionally, when the dress code (or the cooler weather) calls for sleeves, the Miki sequined stretch mini dress by Rotate Birger Christensen + Net Sustain will always be the answer. With a high neckline, statement padded shoulders, and long fitted sleeves, this dress gives a welcome nod to 80s party styles. That said, thanks to the sequinned fringing, gathered detailing on the skirt, and the sultry bodycon fit, it's unmistakably modern. Therefore, it'll remain a favorite for countless party seasons to come.
Shop The MATTEAU Sequined Crochet Mini Tank Dress
Lola Tung-Inspired Dresses In Every Shape And Length
If you love this Lola Tung dress but need something longer, sparklier, or with sleeves, we totally get it. Different events call for different silhouettes but you can always make it work! For example, when a mini skirt option just won't do, slip into the Leslie strapless sequin midi dress by Helsi. Sleek, flattering, and dazzling to boot. This outrageously pretty strapless sequin number is the perfect option for all upcoming festive cocktail parties and dinner dates on your calendar.
Meanwhile, are you all about elegance and tailoring? The shawl collar sequinned mini dress by Lauren Ralph Lauren will be your new favorite. It's much like a tuxedo dress but without the need for buttons or a wrap silhouette. This dress is seriously chic and will have you feeling like a million dollars from the moment you have it on. The only thing to add? The perfect pair of heeled black sandals to compliment your all-black party look.
Shop Lola Tung's Dress Style