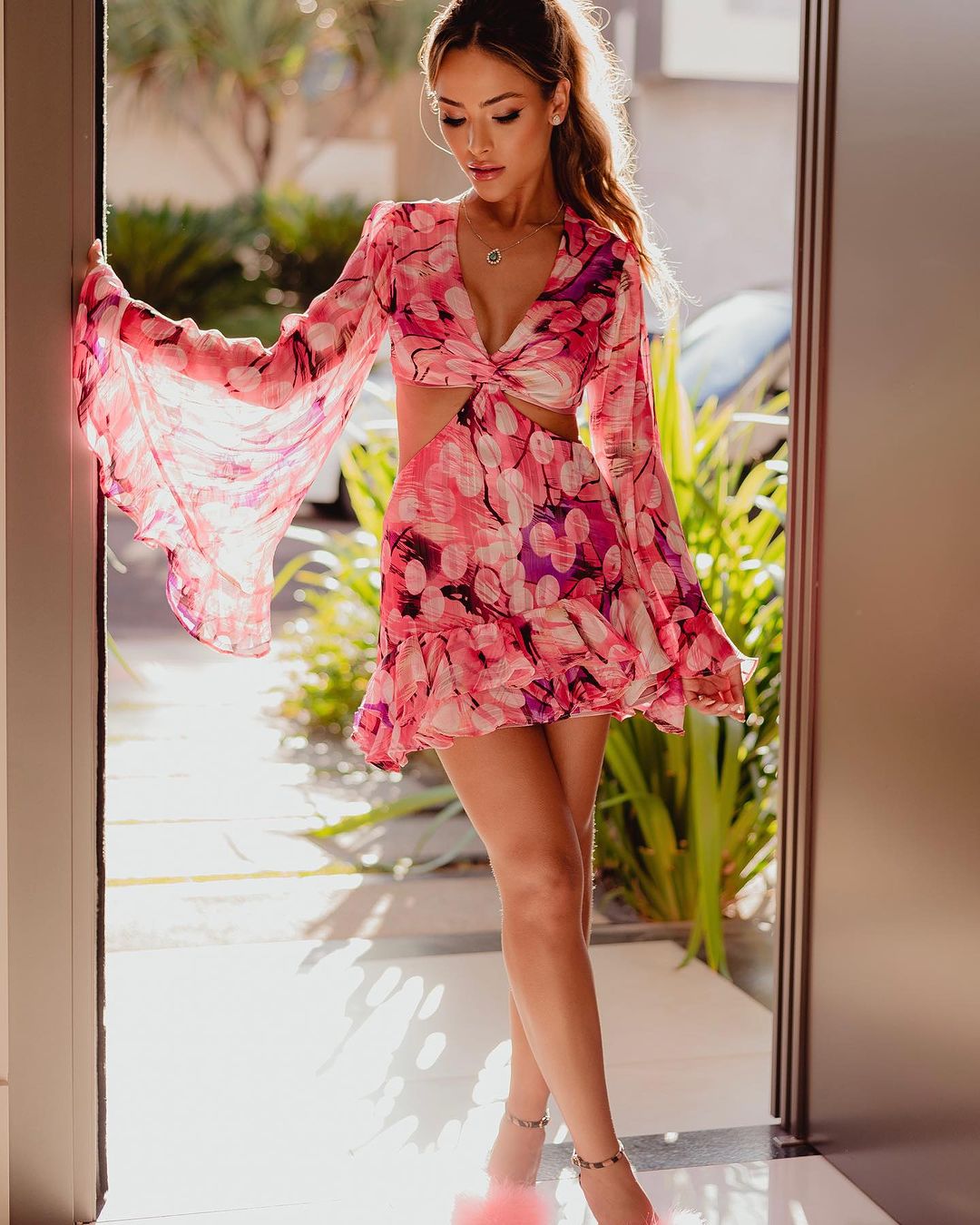 @GABILUTHAI / INSTAGRAM
Get The Look: Gabi Luthai's Pink Floral Mini Dress
If you're swooning over this Gabi Luthai dress just as much as we are, you've come to the right place. From the long sleeves and playful cut-out waist to the adorable mini hemline and mixed floral print. This dress has everything we want in a pink mini-dress and we've been dying to find one just like it for weeks! Now, thanks to the world's leading online fashion stores and designers, we've tracked down plenty of similar silhouettes. Keep scrolling to discover all we've found from Amanda Uprichard, Doen, Oscar De La Renta, Rixo, and more…
Channel Gabi Luthai's Style In Long Sleeve Pink Dresses
From mini to maxi silhouettes, these pink Gabi Luthai dress styles are undeniably pretty. For example, the short dress by Hemant and Nandita. Firstly, this dress dazzles with an elegant high neckline, long sleeves, and a flattering, defined waist. Secondly, the floaty fabric, lace-trim hemline, and all-over mixed floral print in various shades of pink are just beautiful! Finally, this dress also embraces the cut-out trend with a cool open back to balance out the longer sleeves. The verdict? This is the ultimate pink mini to add to your wishlist for recreating Gabi's enviable look!
Meanwhile, when the occasion and the weather call for longer sleeves, Rixo London have you covered. Their highly sought-after Kristen dress is, in our opinion, a must-have for the season ahead. Long sleeves, a classic round neckline, an ankle-length skirt, and the most amazing mixed print. Additionally, it boasts a chic tiered skirt, ensuring you look utterly beautiful from every angle.
Shop The HEMANT AND NANDITA Short Dress
Pink Floral Dresses To Pair With Heels
It'll come as little to no surprise, but one of the many reasons we love Gabi Luthai's dress is for how perfect it looks with heels! Luckily, we've found dresses like the Drape detail Dahlia dress by Oscar De La Renta that look just as amazing. Firstly, with the strapless neckline, voluminous skirt, and eye-catching Dahlia print, this design is eternally stunning. Secondly, it'll go perfectly with your go-to heeled sandals at your next event.
Meanwhile, the Samira mini dress by Amanda Uprichard is giving us serious Gabi vibes. Long sleeves? Check. Mini skirt? Check. Cut-out detailing and a striking pink floral print? Double check! We're all in on this must-have designer silhouette and highly recommend adding it to your cart for fall evening events. It won't stay available for long!
Shop Gabi Luthai's Dress Style...