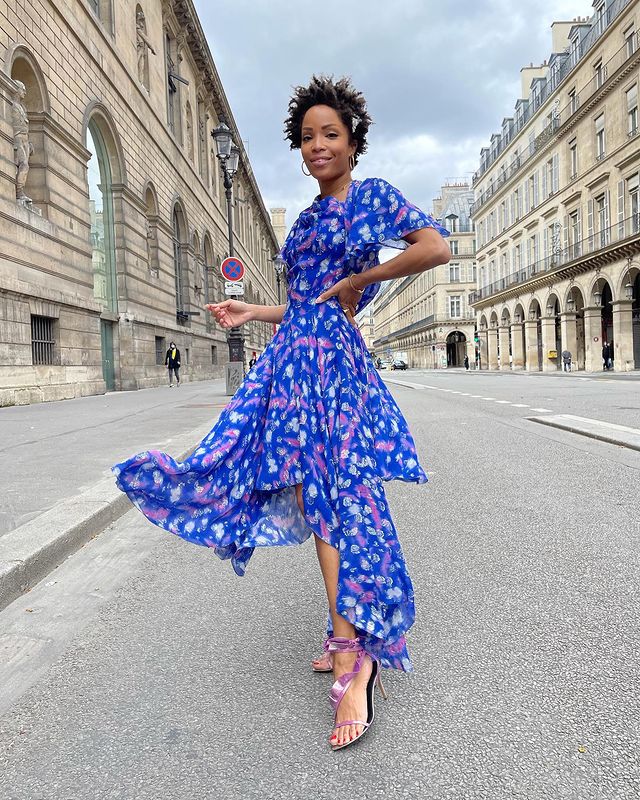 Get The Look: Ellie Delphine Dress Style
@SLIPINTOSTYLE / INSTAGRAM
Get The Look: Ellie Delphine Dress Style
If you're a lover of bright color and eye-catching prints, we imagine you're already following the genius that is Ellie Delphine of Slip Into Style fame. Her eternally innovative talent for coordinating the most vibrant hues and prints in a not only cohesive but truly beautiful way is second to none! That's why we were far from surprised to find her in this, one of this season's most beautiful midi dresses. Its striking blue hue and pretty floral print practically scream summertime! What's more, we couldn't be more in love with just how versatile its silhouette is. To give your closet a style injection inspired by Ellie, we've put together an edit of irresistible designer dresses. All of which resemble our style icons' and will have you feeling instantly as beautiful!
Ellie Delphine's Vibrant Style
One of the many things we love about this Ellie Delphine dress is how perfectly it captures her fearless sense of style. Bold and beautiful brights are a constant source of inspiration and something many of us want to introduce in our own closets. That what makes dresses like the Dream Garden floral midi by Farm Rio so perfect. Just like our featured dress, this one dazzles with a fearless shade of blue. Meanwhile, its colorful palm print adds a further touch of summery charm that's practically essential for this time of year. Add that to its on-trend puff sleeves, unique V-neckline, and floaty mid-length skirt and you've got the quintessential sundress for the months ahead.
Another midi we're head over heels for right now is the cut-out ruffled maxi by Patbo. It too has a stunning floral-inspired print that decorates the entire dress and demands attention. Additionally, we guarantee you'll be just as smitten as we are with its playful ruffle neckline, asymmetric skirt, and unforgettable cut-out bodice. Style this as our style star would and opt for colorful heeled sandals to make the most of its intoxicating color palette.
Shop the PATBO Cutout Ruffled Floral-print Jersey And Jacquard Maxi Dress
PATBO Cutout Ruffled Floral-print Jersey And Jacquard Maxi Dress

$

825
Ellie Delphine's Asymmetric Hemlines
Inspired by Ellie's love of asymmetric hemlines and powerful prints, these summer dresses will take pride of place in our warm-weather line-ups. Firstly, we'll be introducing the Christina midi dress by Alice + Olivia. Its floaty, high-low hemline is simply stunning. Not to mention its fitted bodice with spaghetti straps is eternally flattering.
In addition, the Irene oversized palm print dress by Milly certainly deserves your attention this season. Its playful asymmetric skirt and all-over pleating make for one of the season's chicest and prettiest silhouettes. Not to mention, we're head over heels for that dreamy turquoise hue.
Shop Ellie Delphine's Dress Style
BANJANAN Brenda Tiered Drawstring Dress

$

375

ZIMMERMANN Luminous Frayed Edge Midi Dress

$

1,450

ZIMMERMANN Luminous Tiered Gown

$

1,995

ROCOCO SAND Metallic Chiffon High Low Dress

$

498

PATBO Cutout Ruffled Floral-print Jersey And Jacquard Maxi Dress

$

825

ALICE + OLIVIA Christina High Low Midi Dress

$

440

LEMLEM Halima Printed Viscose Midi Robe Dress

$

395

MILLY Irene Oversized Palm Print Dress

$

350

ML MONIQUE LHUILLIER Flutter Sleeve Pleated Maxi Dress

$

700

ZIMMERMANN Luminous Gathered Linen And Silk-blend Halterneck Maxi Dress

$

1,600

CHELSEA28 Ruffle Tie Waist Dress

$

99

FARM RIO Dream Garden Floral Cotton Midi Dress

$

240

ZIMMERMANN Botanica Floral Silk Maxi Dress

$

1,613

REFORMATION Short-sleeve Floral-print Dress

$

370

LA DOUBLEJ Jennifer Jane Dress

$

910