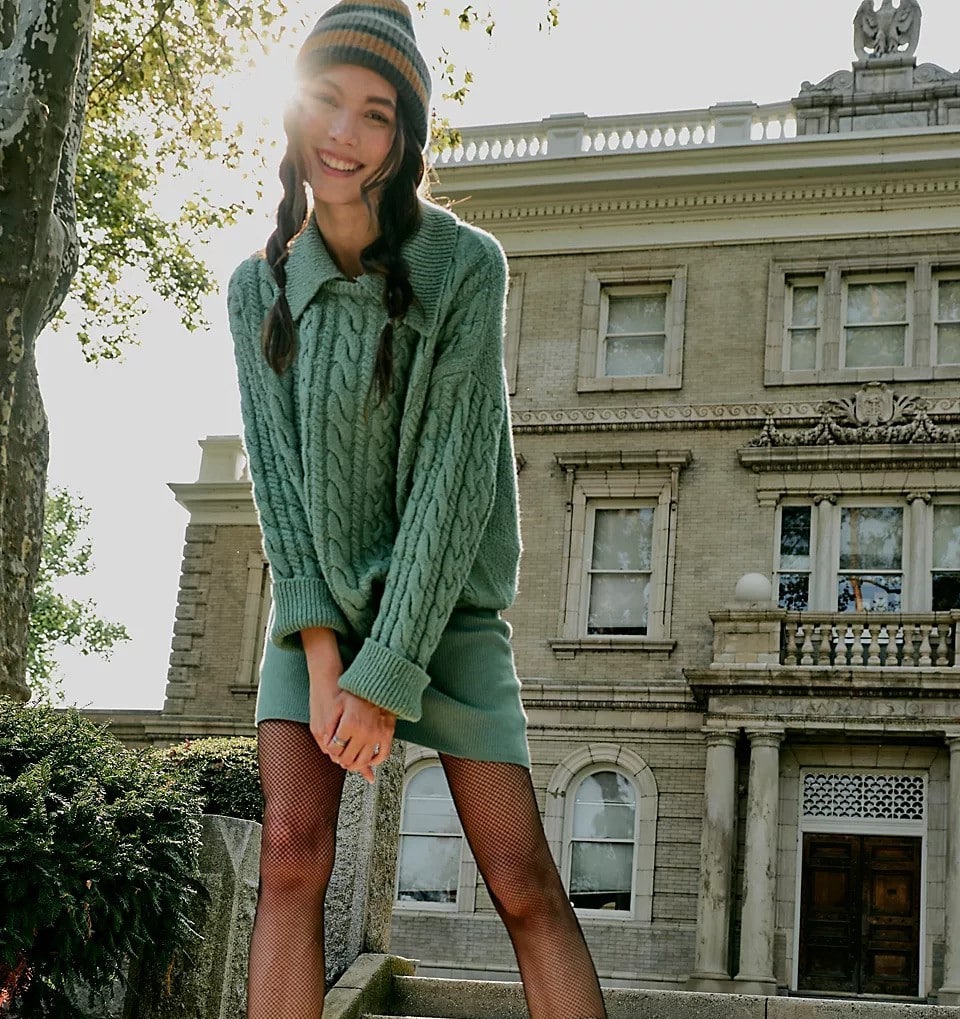 FREE PEOPLE
Cute & Cozy Casual Dresses For Fall
Whether you're heading out for Sunday brunch or a brisk morning stroll around your favorite park, doing so in cute and cozy casual dresses for fall is, in our book, absolutely essential! Thankfully, we've been far from disappointed with the new season designer dresses on offer from our favorite online fashion stores. In fact, were so taken with so many of the autumnal silhouettes we've seen, we couldn't help but put together an edit of our top 30 picks. Yes, every dress on our list is perfect for your off-duty plans and will have you feeling cozy and looking truly stylish. Keep scrolling to pick out which dresses on our list deserve a top spot in your closet this fall.
Layers & Casual Dresses For Fall...
When it comes to keeping warm in style, we love combining our fave knitwear with the best casual dresses for fall. For example, we'll most certainly be slipping into the Patty dress by Draper James every chance we get! Firstly, this dress boasts the most autumnal-inspired floral pint we've ever laid eyes on. Secondly, the long sleeves, calf-length skirt, and classic round neckline make this dress not only stylish but ideal for cooler temperatures. Additionally, we know it'll look amazing with dark tan boots and coordinating knitwear this fall.
Meanwhile, the velvet wrap dress by Riverside Tool & Dye is crying out to be styled with a leather jacket and boots. This striking mini wrap dress was made for this time of year and will see you effortlessly through the winter months too. It's also made from a sumptuous tie-dyed velvet meaning it's totally unique and super warm to boot. Throw this over patterned tights and add biker boots for a chic and edgy ensemble this weekend.
Staple Casual Dresses For Fall
When temperatures drop, having a stylish lineup of chic and casual dresses you can rely on is essential! Luckily, we've found plenty, like the Addaline floral print dress by Reformation. We all need that go-to floral dress in our closets for off-duty plans. For us, this is definitely it! From the classic round neckline and short sleeves to the fall-inspired deep orange floral print and flattering seamed waist. Everything about this dress just works! What's more, thanks to its ankle-length skirt and pretty flounced hem, it'll go perfectly with black leather boots and chunky knitwear.
Meanwhile, we can't add the Waverly crystal-embellished mini dress by Retrofete to our carts quickly enough! Firstly, this dress exudes fall/winter elegance with its super high neckline, long relaxed fit sleeves, and sleek fitted mini skirt. Additionally, we love how it's both incredibly cozy and undeniably flattering at the same time. Add this gorgeous gray dress to your cool weather closet and prepare to wear it on repeat for every off-duty plan in your diary!
Shop All Casual Dresses For Fall