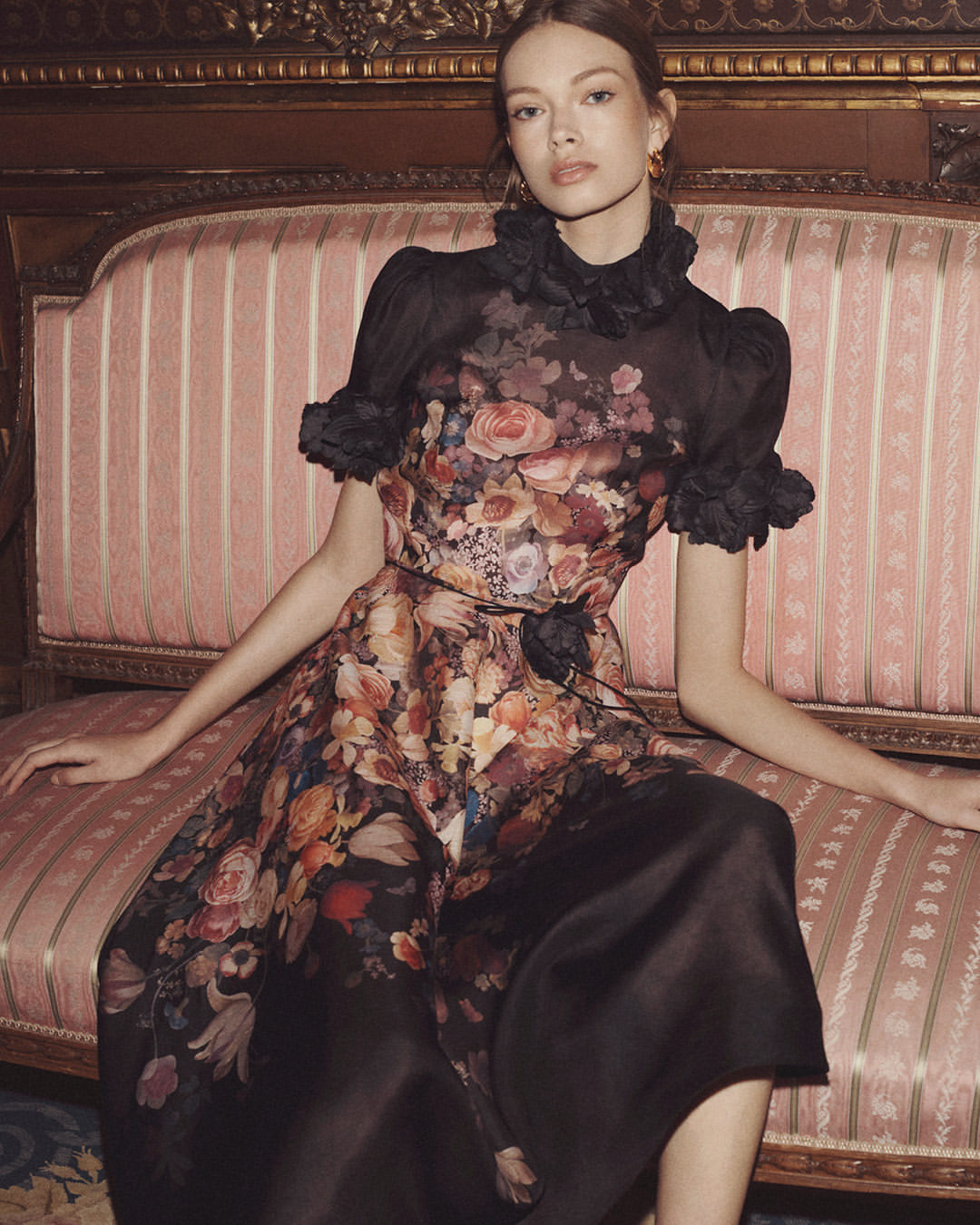 @ZIMMERMANN / INSTAGRAM
Chic Winter Dresses We'll Be Living In Until Spring
Shorter days and colder weather have officially arrived, therefore, we're looking for chic winter dresses we can live in from now until spring arrives. And, whether you're getting all dressed up for a special event or slipping into something chic and simple for a stylish off-duty look, we have the silhouettes you need to see right here. Below are 30 stunning designer dresses all hand-picked for their gorgeous designs and luxurious winter fabrics and colorways. Will you opt for a sleek silky slip dress or a knitted mini to pair with boots and outerwear? Or, will it be a sleek designer gown or cocktail dress for the upcoming holiday parties in your calendar? Once you see these dresses, we're betting the answer will be both!
Chic Winter Dresses In Cozy Knitted Fabrics
When it comes to staying warm and looking stylish this winter, knitted chic winter dresses are the closet staple you need. Thankfully, we don't need to settle for unflattering shapes and dull colorways. That's all thanks to dresses like the Atina cable-knit merino wool-blend mini dress by Isabel Marant. With a high neckline, long sleeves, and an intricate knitted design, we can look eternally chic whilst feeling just as cozy as we do in our loungewear! We adore everything about this dress from the silhouette to the never-out-of-style stone hue. So, go ahead and pair yours with knee-high boots for the most gorgeous off-duty outfit for this fall/winter season – and many more to come!
Meanwhile, the Azita dress by Lovers and Friends wins the award for most flattering knitwear this winter. Firstly, it boasts a beautiful wrap silhouette. Perfect for staying warm and flattering your figure all at the same time. Secondly, you can dress this designer silhouette up or down with ease. Style yours with a long-line coat and flat or heels boots depending on the dress code. It'll look gorgeous either way!
ISABEL MARANT Atina Cable-knit Merino Wool-blend Mini Dress

$

1,390

CEFINN The Irina Puff-sleeve Velvet Maxi Dress

$

540

GABRIELA HEARST Net Sustain Adolphine Organic Silk-voile And Velvet Maxi Dress

$

3,990

DÔEN Amande Printed Cotton-voile Maxi Dress

$

230

ISABEL MARANT Albini Gathered Printed Silk-blend Midi Dress

$

1,390

GALVAN Pandora Satin Halterneck Gown

$

1,695

COSTARELLOS One-shoulder Draped Velvet Gown

$

2,115

ISABEL MARANT Maray Metallic Flocked Chiffon Midi Dress

$

2,090

NORMA KAMALI Fishtail-hem Stretch-lamé Gown

$

307

E.STOTT Olive + Ellen Detachable-skirt Sequinned Dress

$

1,395

SELF-PORTRAIT Tulle-paneled Embellished Cutout Crepe Mini Dress

$

465

ZIMMERMANN August Belted Floral-print Linen Maxi Dress

$

750

ZIMMERMANN Matchmaker Lace Midi Dress

$

1,100

ILKYAZ OZEL Dalida Maxi Dress

$

690

REFORMATION Frankie Printed Linen Midi Dress

$

248

BEC & BRIDGE Nora Long Sleeve Cutout Lace Maxi Dress

$

597

EN SAISON Blaise Geo Print Long Sleeve Mini Sweater Dress

$

108

MARANT ETOILE Imany Cotton Blend Midi Dress

$

695

TOP SHOP Print Trim Detail Long Sleeve Mini Dress

$

77

CIEBON Haisley Mixed Paisley Long Sleeve Maxi Wrap Dress

$

162

CHARLES HENRY Plunge Neck Tiered Long Sleeve Mini Dress

$

99

ALESSANDRA RICH Open-back Velvet Long Dress

$

3,325

HUTCH Printed Twist-Front Puff-Sleeve Velvet Dress

$

248

SUPERDOWN Madeline Blazer Dress

$

90

LOVERS + FRIENDS Tamarin Sweater Dress

$

168
Chic Winter Dresses From Day To Night
No matter the occasion or time of day, these chic winter dresses have you covered. Firstly, the Amande printed cotton-voile maxi dress by Doen will be our go-to weekend silhouette. Pair it with boots and fall head over heels for the autumnal floral print, long sleeves, high neckline, and maxi-length skirt.
Finally, the Pandora satin halterneck gown by Galvan is the ultimate winter evening gown. Not only does it boast the most beautiful halter neckline, it also has a gorgeous deep purple hue and a sweeping floor-length skirt. We'll be slipping into this glamorous silhouette for every festive event this season has to offer!
Shop All Chic Winter Dresses