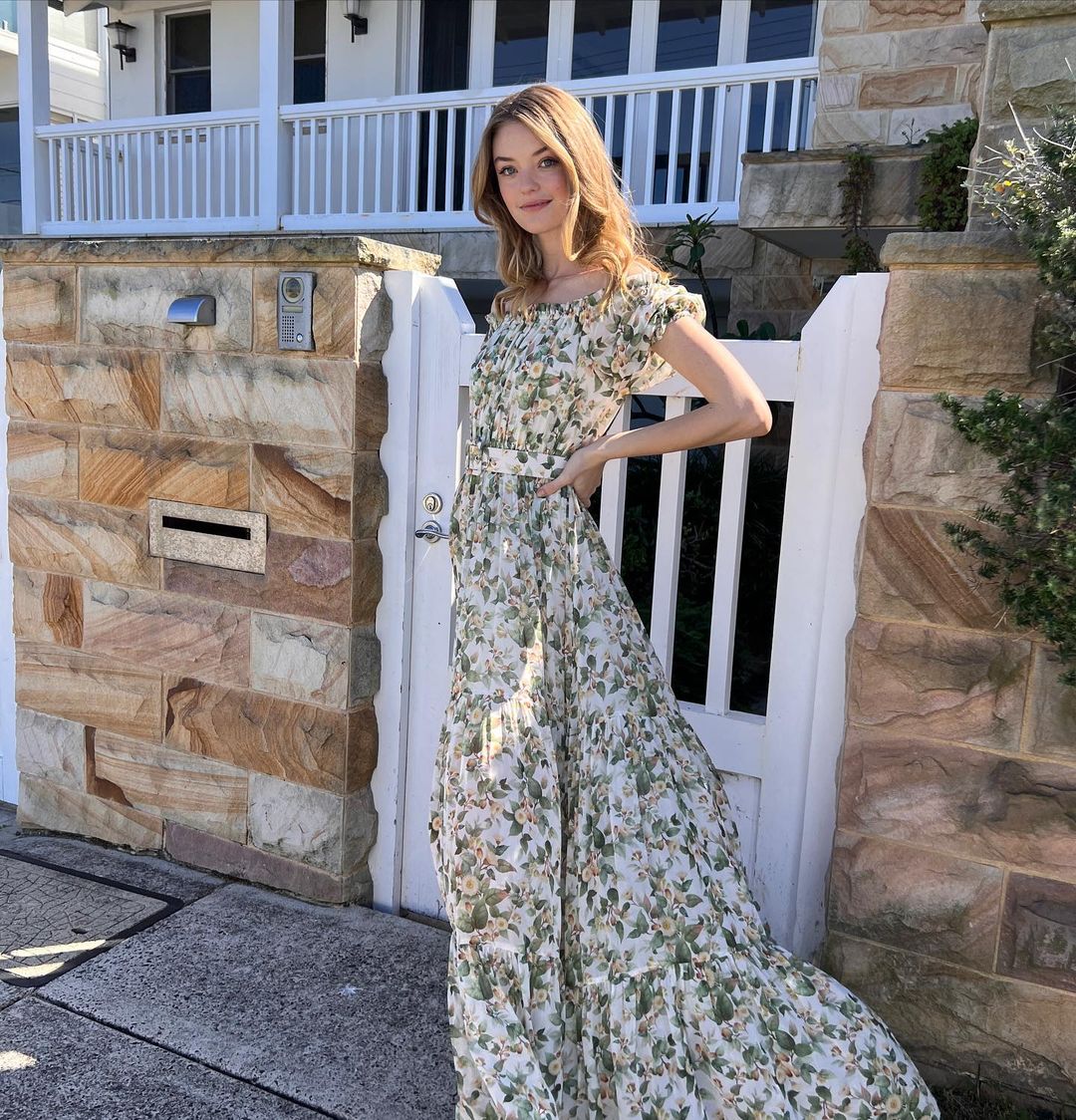 Celebrity Dress Of The Week: Willow Hand's Flawless Floral Maxi Dress
@WILLOW.HAND / INSTAGRAM
Celebrity Dress Of The Week: Willow Hand's Flawless Floral Maxi Dress
If like us you're feeling fully inspired to shop for this year's prettiest spring maxi dresses, this floral Willow Hand silhouette is a perfect inspiration. From its chic off-shoulder neckline and floor-length skirt to the defined waist and all-over floral print. Everything about it screams spring and summer and we can't wait to step out in looks just like it. Luckily, we've been spoiled for choice in our search to track them down. From Oscar De La Renta and Mac Duggal to Patbo and Borgo De Nor, all our go-to spring & summer designers have delivered everything we've been looking for. Keep scrolling and prepare to swoon over all our top picks, all inspired by Willow's dreamy silhouette…
Willow-Inspired Off-Shoulder Maxi Dresses
Though we truly love everything about Willow's floral maxi, the off-shoulder neckline is certainly a stand-out feature. Thankfully, Oscar De La Renta happens to agree and has us all head over heels with their off-the-shoulder ruffled floral print gown and ruffle detailed hydrangea maxi dress. Both of these scene-stealing silhouettes have a voluminous, tiered ruffle neckline that sits off the shoulder like Willows. Also, they each boast a floaty long skirt and all-over floral print that demands attention at every turn. So, add either one of these dresses (or both!) to your new season lineup and expect to be the best-dressed guest wherever you wear them. We highly recommend slipping into them for everything from wedding receptions to garden parties.
Additionally, we just have to draw your attention to the Payton off-shoulder cutout poplin dress by Cara Cara. Firstly, it has an undeniably beautiful floral print, a keyhole cut-out bodice, and puffed off-shoulder sleeves. Therefore, this is a must-have for lovers of truly pretty off-shoulder dresses. Secondly, it's wonderfully versatile and will look just as stunning with flat sandals as it will with heeled ones. So, it's made for all your warm-weather plans!
Shop The OSCAR DE LA RENTA Off-the-shoulder Ruffled Floral-print Cotton-blend Poplin Gown
OSCAR DE LA RENTA Off-the-shoulder Ruffled Floral-print Cotton-blend Poplin Gown

$

4,990
Willow Hand Style Dresses To Wear On Repeat This Spring & Summer
Spring has finally sprung and summer is (almost) on the way – time to stock our closets with Willow Hand-inspired dresses for all the plans we have! Firstly, we highly recommend stepping out in the Clover tie front midi dress by Zimmermann every chance you get. It's strapless, vibrant, and goes perfectly with flat sandals. What's more, you can style it up with knitwear and boots for spring until the warmer weather really hits!
Meanwhile, the Farrah off-shoulder dress by Borgo De Nor is the summer dress of our dreams. Initially, it wows with a willow-style neckline, floaty floor-length skirt, and a flattering fitted waist. Secondly, the delicate ditsy flowers and soft pink hue are a match made in heaven!
Shop Willow Hand's Flowy Maxi Dress Style...
AGUA BY AGUA BENDITA Oro Clementina Off-the-shoulder Embroidered Floral-print Linen Maxi Dress

$

920

OSCAR DE LA RENTA Off-the-shoulder Ruffled Floral-print Cotton-blend Poplin Gown

$

4,990

OSCAR DELA RENTA Ruffle Detail Hydrangea Maxi Dress

$

2,990

IEENA FOR MAC DUGGAL Floral Print Chiffon A-Line Gown

$

498

ISABEL MARANT ÉTOILE Giana Ruched Tiered Floral-print Cotton-voile Maxi Dress

$

750

ML MONIQUE LHUILLIER Floral Chiffon Maxi Dress

$

695

LAUREN RALPH LAUREN Floral Ruffled Trim Georgette Gown

$

295

CARA CARA Payton Off-Shoulder Cutout Poplin Maxi Dress

$

895

PATBO Cutout Belted Printed Chiffon Maxi Dress

$

850

MAC DUGGAL Tiered Ruffled Dress

$

698

AGUA BY AGUA BENDITA + Net Sustain Lima Tiered Floral-print Linen Maxi Dress

$

920

AGUA BY AGUA BENDITA Espliego Oasis Off-Shoulder Cotton Maxi Dress

$

780

AGUA BY AGUA BENDITA Espliego Printed Cotton Long Dress

$

780

ZIMMERMANN Clover Tie Front Midi Dress

$

695

BORGO DE NOR Farrah Off-shoulder Floral-print Dress

$

1,093

ERDEM Emanuela Beaded Cold-shoulder Floral-print Gown

$

7,295

GIAMBATTISTA VALLI Tulip-print Off-the-shoulder Silk-georgette Gown

$

5,300

SELKIE x REVOLVE The Romance Novel Dress

$

425