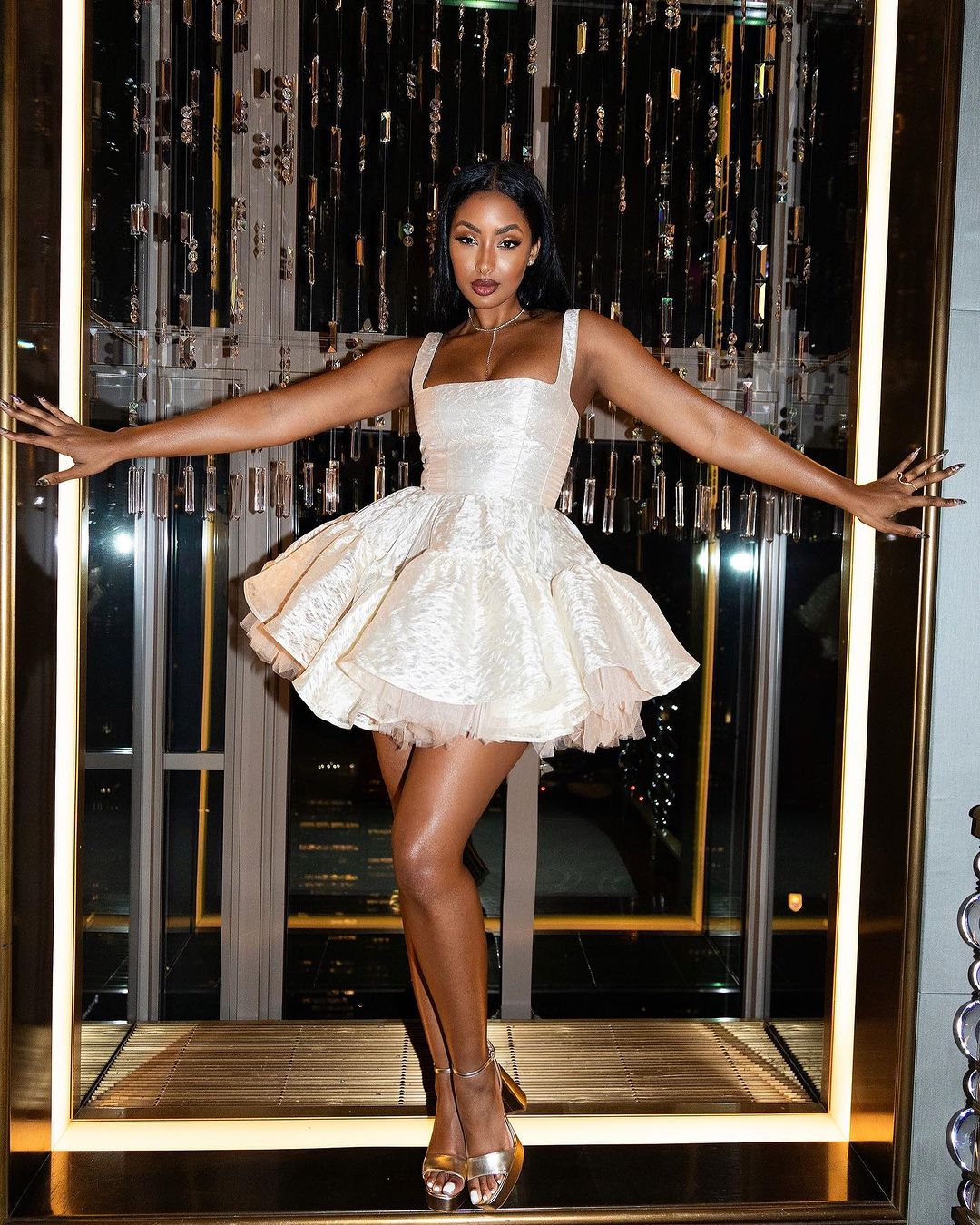 @OLAYNOEL / INSTAGRAM
Celebrity Dress Of The Week: Olay Noel's Chic White Mini Dress
Olay Noel recently wore the most beautiful square neck mini dress to the Fashion Media Awards 10th-anniversary party… and we've been thinking about it ever since! The chic square neckline, the wide shoulder straps, the sheer volume of the playful flared skirt. We're seriously smitten and can't wait to slip into something similar for our next evening out. Since we're guessing you feel the same because, well, how could you not?! We know you'll be just as in love with the dresses below as we are. Keep on reading and prepare to fall head over heels for every design by Mac Duggal, Elliatt, Bardot, Sister Jane, and so many more…
Chic Designer Dresses In The Style Of Olay Noel
Just when we thought we'd never find a dress as perfect as this Olay Noel one, we set eyes on the metallic A-line midi cocktail dress by Mac Duggal. Now, does it have a mini skirt? No. Is it still a perfect dress? Yes! With its eternally-chic midi-length design, it boasts pretty much every other feature we adore about our inspo dress. Firstly, a sleek square neckline and a fitted bodice. Secondly, a voluminous A-line skirt and sparkly fabric. Add this designer beauty to your holiday wishlist and feel instantly special the moment you have it on.
Meanwhile, the textured floral cloque dress by Oscar De La Renta has all the volume you could ever wish for. Just like Olay's, this dress combines a stunning corset-style bodice with an exaggerated skirt with tons of volume. What's more, we couldn't be more in love with the unique cape-back which gives this dress an undeniable sense of elegance and prestige. So, style yours with coordinating heels for dinner dates and parties. We even recommend this one for brides for a flawless pre-wedding event look.
Shop The MAC DUGGAL Metallic A-Line Midi Cocktail Dress
MAC DUGGAL Metallic A-Line Midi Cocktail Dress

$

498
Unique White Mini Dresses Destined To Sell Out
We love everything about this Olay Noel dress, especially the drama that comes from its uniquely playful silhouette. With that in mind, we're turning our attention to chic designer mini-dresses with memorable details. For example, the puff dress by Simkhai. Firstly, this dress exudes luxury with a fitted silhouette, button-through details, and slim spaghetti straps. Secondly, the oversized, layered ruffle neckline really steals the show and guarantees an unforgettable entrance at every event you'll wear it to.
Finally, we just have to draw your attention to the white Adelia ruffle mini dress by AJE. This gorgeous, one-shoulder mini practically demands your attention. Tailored to skim over your curves whilst accentuating your waist, it's also as flattering as it is beautiful. The real show-stopping feature here is, of course, the oversized diagonal floral detailing which instantly elevates the dress and drapes elegantly at your side. So, style yours with coordinating heels for an effortlessly elegant evening look. Fair warning, the compliments won't stop until you leave the party!
Shop Olay Noel's Dress Style...
REFORMATION Gabby Smocked Strapless Mini Dress

$

218

ELLIATT Convergence Dress

$

190