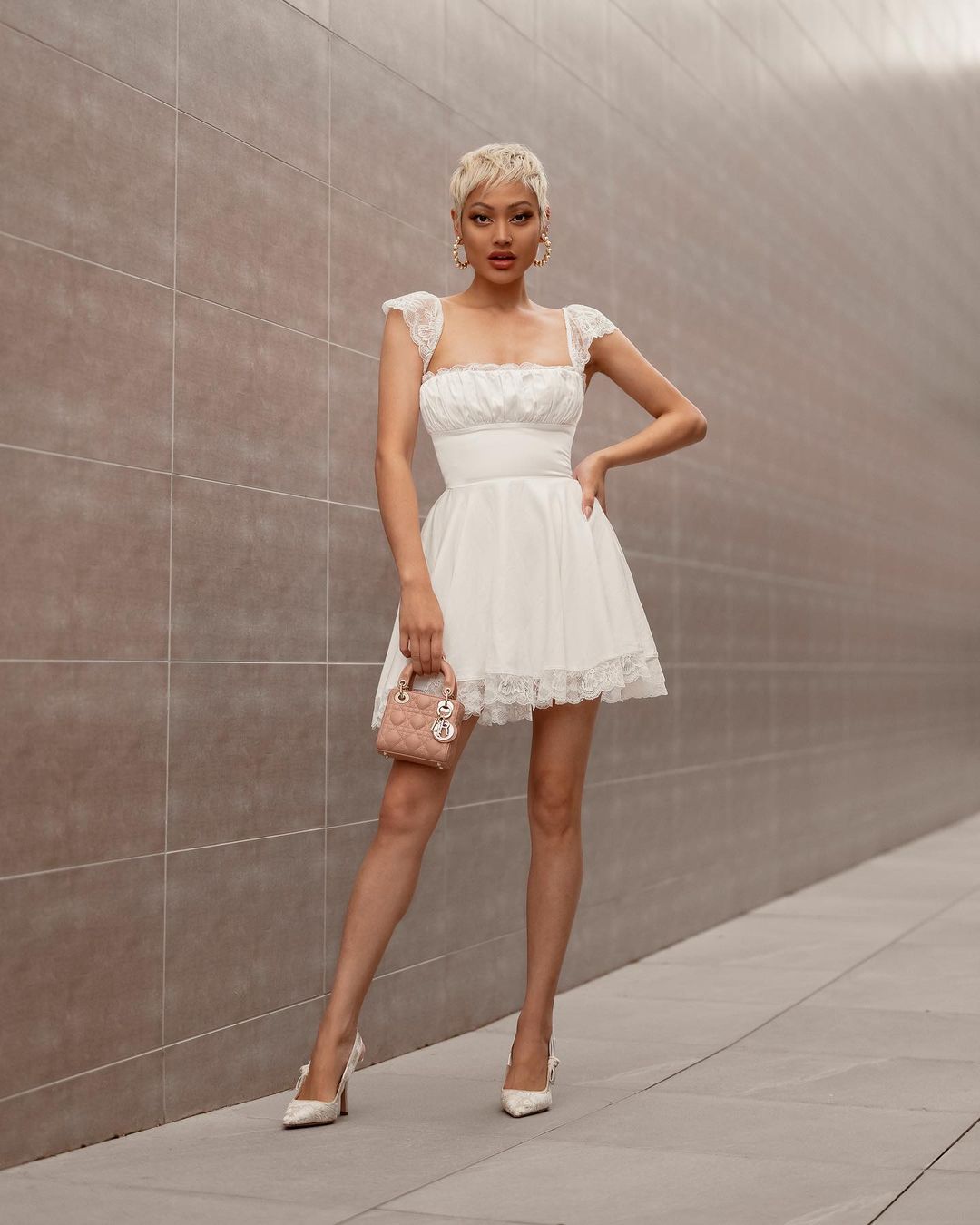 @MICAHGIANNELI / INSTAGRAM
Celebrity Dress Of The Week: Micah Gianneli's White Lace Mini Dress
If you're always on the lookout for the perfect white dress (who isn't?), you're about to be fully inspired by Micah Gianneli's chic lace mini dress. This adorable designer silhouette has stolen our hearts and we're more than ready to slip into a near-identical design. Happily, we're spoiled for choice in our search. With little white dresses from Yumi Kim, Miguelina, Amanda Uprichard, Oscar De La Renta, and more. We've even found similar looks from the designer of Micah's dress, House Of CB. Keep scrolling to discover and shop all we've found from the world's leading online fashion stores!
Little White Micah Gianneli Style Dresses By House Of CB
Fully inspired to shop dresses like Micah Gianneli's, we're looking to House Of CB, the designer of her dress! For example, their embroidered mini dress combines many of the elements we love most about our inspo dress. Firstly, it boasts wide shoulder straps, and an eternally flattering, fitted top. Meanwhile, the intricate floral detailing and mini hemline are a match made in heaven. Do as Micah does and style this dress with coordinating white heels for a sleek white day-to-night ensemble. Perfect for daylight soirees and evening events alike!
Meanwhile, the Tuck mini dress, also by House of CB is the ultimate sultry evening dress. From the deep, lace-trimmed V-neckline and fitted, corset-style top to the curve-hugging skirt, this dress will certainly cause a stir. Not to mention, we love the unique contrast between the V-shaped neckline and the square-shaped back. Style this dress with high-heeled sandals to elevate your silhouette.
Shop The HOUSE OF CB Embroidered Mini Dress
More Micah Gianneli To Elevate Your Closet
There's no denying that this Micah Gianneli dress style will instantly upgrade your closet. With that in mind, we're wasting no time adding dresses like the Gardenia lace ruffle mini by Oscar De La Renta to our carts. Taking plenty of inspiration from the lace trim on Micah's dress, we're going all out in this all-over lace dress. We adore the off-shoulder neckline, delicate spaghetti straps, and asymmetric ruffle detailing. Find us styling this dress with heeled sandals for the prettiest event look this coming season and beyond.
Finally, if you're all about that gorgeous fit and flare silhouette, we totally get it. It's the very reason we added the Sirene tulle and cutout satin mini dress by Leslie Amon. Firstly, we're eternally smitten with the criss-cross satin top and voluminous tulle skirt. Soecondly, if you ask us, it's equally as pretty as our inspo dress! So, grab this one now before it's gone for good.
Shop Micah Gianneli's Dress Style...