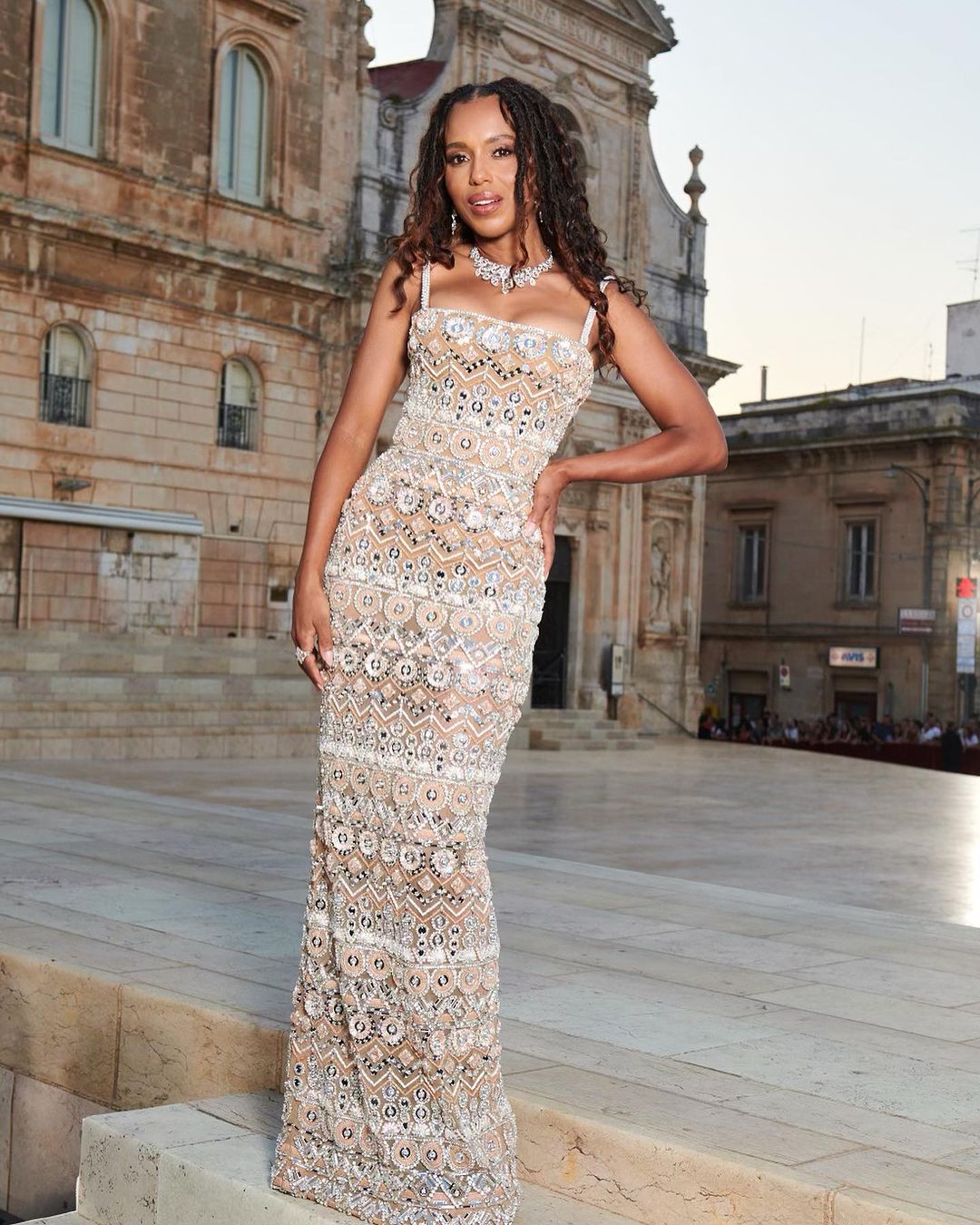 Celebrity Dress Of The Week… Kerry Washington's Dreamy Embellished Gown
@KERRYWASHINGTON / INSTAGRAM
Celebrity Dress Of The Week… Kerry Washington's Dreamy Embellished Gown
No matter the occasion, Kerry Washington always looks flawless when attending an event. And, as we can all see from this latest look, she never fails to impress with a jaw-dropping designer dress. This gown in particular has demanded our attention. So much so, that we even put together an edit of designer dresses with the aim of recreating the look at our next event! Since you're here, we're guessing you're as smitten with Kerry's dress as we are and also want to find one similar for your closet. Well, keep on scrolling. We've picked out some irresistible dupes from Bronx and Banco, Patbo, Helsi, Dress The Population, and more…
Embellished Kerry Washington Style Gowns Guaranteed To Turn Heads
Finding worthy embellished designer gowns to rival Kerry Washington's was no mean feat. Luckily, we've been able to track down some seriously pretty, floor-length silhouettes we think are just as stunning. Not to mention, they boast all-over designer embellishments just like our inspo gown! For example, the Lola strapless sequin column gown by Helsi. Made to stun from every angle, this embellished dress is the ultimate end-of-summer silhouette. Firstly, it has a sultry strapless neckline and a thigh-high split. Secondly, the beautiful beaded elements add a subtly colorful edge to your look. Pair this dress with matching heeled sandals for an unforgettably unique ensemble like Kerry's.
Meanwhile, we can't get enough of the Sidney deep V-neck 3D lace gown by Dress The Population. This gown is wildly popular and we can totally see why. Not only does it boast a chic v-neckline, a flattering fitted bodice, and a sweeping A-line skirt, it also has the most beautiful all-over floral embellishments. Add this striking silhouette to your closet before it inevitably sells out!
Shop The LET ME BE Checked Shine Dress
LET ME BE Checked Shine Dress

$

298
More Remarkable Dresses Like Kerry's
Now, these gowns weren't the only dresses we thought of when putting together our Kerry-inspired edit. Another dress we added right away was the Blaise strapless crystal-embellished maxi dress by 16 Arlington. This gorgeous strapless design creates the beautiful square neckline we love so much on Kerry's dress. It also has the perfect, curve-skimming fit and subtle designer embellishments that ensure it dazzles under the lights!
Lastly, the checked shine dress by Let Me Be is a must for all fans of Kerry's style – and this dress in particular! Firstly, it boasts the most beautiful checked embellishments. Secondly, while on the dressier side, we adore how you can style it up or down depending on your choice of heels. Style the trending relaxed fit with sparkly heels for red carpet events or with low-key heeled summer sandals for dinner dates. You'll look stunning every time you step out in it!
Shop Kerry Washington's Dress Style...
DRESS THE POPULATION Tahani Dress

$

298

CYNTHIA ROWLEY Gisele Beaded Dress

$

525

BRONX AND BANCO Megan Sleeveless V-Neck Lace Gown

$

690

MAC DUGGAL Sequined Asymmetric Gown

$

398

DRESS THE POPULATION Josselyn Beaded Sheath Midi Dress

$

278

STARLET Exclusive Pearl Embellished Mini Dress

$

208

ROTATE BIRGER CHRISTENSEN 3d Mesh Maxi Tube Dress

$

590

HELSI Beaded Fringe Maxi Dress

$

650

PATBO Hand Beaded Pearl & Crystal Gown

$

5,000

HELSI Lola Strapless Sequin Column Gown

$

695

DRESS THE POPULATION Slim Embellished Dress

$

278

16ARLINGTON Blaise Strapless Crystal-embellished Duchesse-satin Maxi Dress

$

6,750

LET ME BE Checked Shine Dress

$

298

DRESS THE POPULATION Sierra Sequin Plunge Neck Gown

$

348

DRESS THE POPULATION Sidney Deep V-Neck 3D Lace Gown

$

298