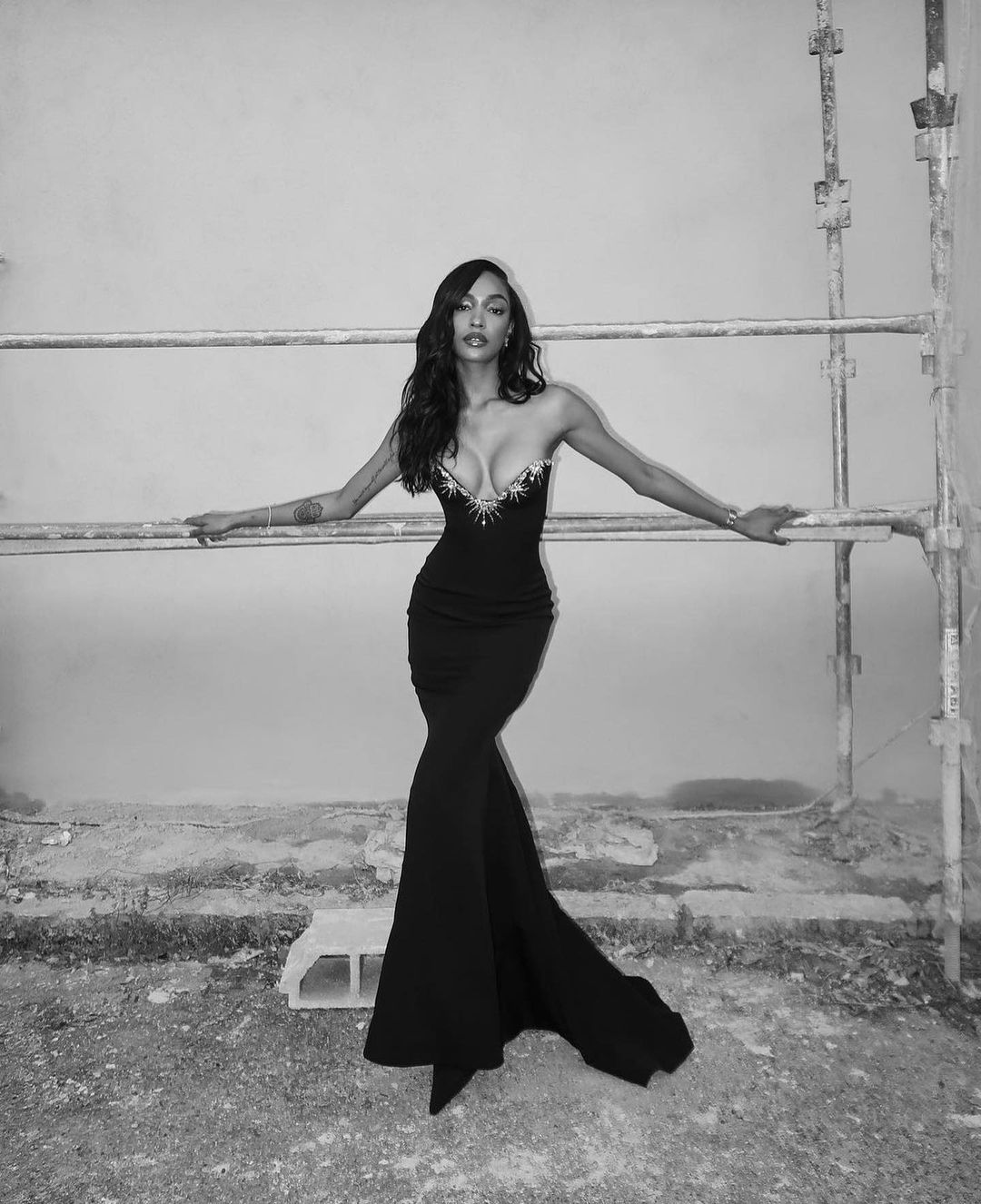 Celebrity Dress Of The Week Jourdan Dunn's Beautiful Black Bodycon Gown
@JOURDANDUNN / INSTAGRAM
Celebrity Dress Of The Week Jourdan Dunn's Beautiful Black Bodycon Gown
It's safe to say that every outfit Jourdan Dunn slips on, we fall in love with. However, this show-stopping fishtail gown is so incredibly stunning, it might just be our favorite look to date. From the sultry plunge v-neckline and silver trim to the bodycon fit and flared hemline. It demands attention from every angle and is truly unforgettable. Thankfully, in our search to replicate the look, we found plenty of equally beautiful designer gowns. Therefore, you can look and feel just as glamorous ad Jourdan, no matter which of these dresses you choose to make yours…
Strapless Jourdan Dunn Style Gowns...
One of the many reasons we love this Jourdan Dunn gown? The chic strapless neckline of course! Luckily, our favorite designers love this neckline just as much as we do. For example, you'll never regret investing in a classic black gown like the Heidi gown by Sau Lee x Revolve. Initially, you'll fall head over heels for the sleek straight neckline and seamed waist. Secondly, the voluminous skirt will have you feeling instantly glamorous. This dress even offers a thigh-high split to show off your legs and choice of designer footwear!
Meanwhile, the Cherie Amour strapless embellished gown by Rebecca Vallance is one of this year's most beautiful black gowns. Firstly, we adore the flattering fitted bodice and seamed waistline. Secondly, the textured illusion skirt is sure to stun from every angle. Finally, this dress even offers a hint of sparkle in a nod to replicate the silver embellishments on Jourdan's dress. Slip into this stunning dress and prepare for an endless stream of compliments!
Shop The HOUSE OF CB Sabine Strapless Stretch Crepe Dress
HOUSE OF CB Sabine Strapless Stretch Crepe Dress

$

299
Scene Stealing Black Gowns To Rival Jourdan's...
There's no denying that Jourdan Dunn's dress is instantly unforgettable. Luckily, we found more than one beautiful black silhouette to rival it! Firstly, the open-back embellished silk gown by Valentino Garavani is perfect for black tie events. The sleek column-esque fit is undeniably stylish. Meanwhile, the silver bust embellishments will dazzle under the light and have you feeling like fashion royalty. We highly recommend styling this dress with sky-high heels to lengthen your silhouette and make the most of this fabulous floor-length design.
Finally, the Sabine strapless stretch crepe dress by House of CB will be your go-to black dress for the season ahead and beyond. Firstly, the dramatic V-neckline will flatter your figure and add a sultry edge to your look. Meanwhile, House of CB's signature bodycon fit will flatter your curves perfectly and make your feel instantly more elegant. Simply add your go-to heels for an effortlessly sexy silhouette at your next event.
Shop Jourdan Dunn's Gown Style...
SAU LEE X Revolve Heidi Gown

$

550

KATIE MAY Leo Gown

$

255

DRESS THE POPULATION Gabrielle Off the Shoulder Gown

$

328

VALENTINO GARAVANI Open-back Embellished Silk Gown

$

8,300

NICHOLAS Pasha Strapless Tube Gown

$

495

NORMA KAMALI Walter Fishtail Gown

$

435

KATIE MAY Pamela Gown

$

375

REBECCA VALLANCE Cherie Amour Strapless Crystal-Embellished Gown

$

1,040

IEENA FOR MAC DUGGAL Rhinestone Embellished Gown

$

298

SAINT LAURENT One-shoulder Ruched Stretch-jersey Gown

$

5,490

CINQ À SEPT Jillie Trumpet Gown

$

695

NOOKIE Jasmine One Shoulder Gown

$

289

LA FEMME Embroidered Ruched Semisheer Mermaid Gown

$

448

STELLA MCCARTNEY Stretch Cady One-Shoulder Dress

$

2,200

LA FEMME Gorgeous Luxe Jersey Gown

$

348

REBECCA VALLANCE Phoebe Gown

$

1,199

HOUSE OF CB Sabine Strapless Stretch Crepe Dress

$

299

NORMA KAMALI Slinky Fishtail Gown

$

355