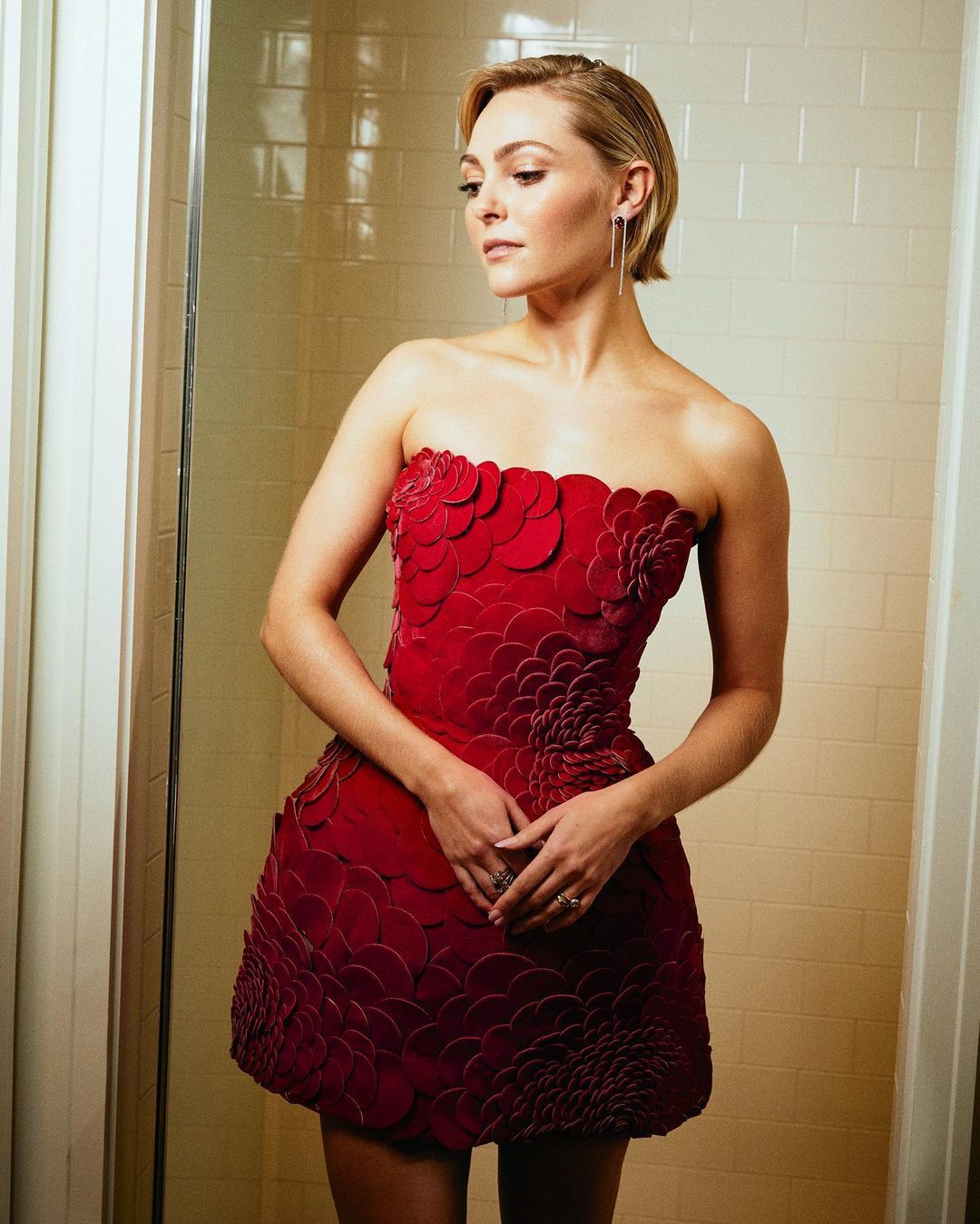 Celebrity Dress Of The Week: Anna Sophia Robb's Chic Floral Applique Dress By Oscar De La Renta
@ANNASOPHIAROBB / INSTAGRAM
Celebrity Dress Of The Week: Anna Sophia Robb's Chic Floral Applique Dress By Oscar De La Renta
The minute we laid eyes on this gorgeous Anna Sophia Robb dress, we knew it had to be our dress of the week. From the timelessly chic strapless neckline and all-over floral detailing to the flattering fitted bodice and curve-hugging mini skirt. Every element of this dress is utter perfection and a silhouette we're dying to add to our very own evening lineups. With that in mind, we've scrolled thousands of dresses from our favorite designers and put them all together in this edit. And, spoiler alert, not only did we find this exact dress, we found plenty of super similar designs you'll be dying to slip into…
Shine Like Anna Sophie Robb In The Oscar De La Renta Velvet Paillette Scallop Dress
If like us you were hoping to track down this exact Anna Sophia Robb dress, you've come to the right place. It's the Velvet Paillette Scallop Dress by Oscar De La Renta and we're seriously smitten. This dress boasts a stunning strapless neckline, an eternally flattering mini silhouette, and what might just be the prettiest all-over flower detailing we've ever seen. It's still in stock, however, take our advice. Add it to your cart quickly before this highly sought-after dress is gone for good!
Meanwhile, we've found plenty of similar little red designer dresses that are just as beautiful. For example, the Azalea lace mini dress by Self-Portrait. This stunning red lace mini is perfect for everything from date nights to cocktail parties. It has the prettiest romantic red hue, all-over lace detailing, and a gorgeous fit and flare silhouette. Additionally, it goes perfectly with heels for a showstopping evening look.
Shop The OSCAR DE LA RENTA Velvet Paillette Scallop Cocktail Dress
OSCAR DE LA RENTA Velvet Paillette Scallop Cocktail Dress

$

6,990
Stay Chic In The Season's Most Iconic Red Dresses
There's no denying that this Anna Sophia Robb dress is seriously show-stopping. So, feeling instantly inspired we went ahead and found the season's other most sought-after looks. Firstly, we can't help but feel smitten over the  Scarlett strapless midi dress by Rebecca Vallance. Also, we fell head over heels for the scalloped strapless neckline and curve-hugging fit. Also, we're certain this dress exists to go with heels for your near future summer evening plans!
Meanwhile, the Lorena strapless pleated mini dress by Amur will make your evening lineup instantly prettier. Firstly, this dress has a classic strapless neckline and a flirty flared mini skirt. Secondly, the lipstick red hue and all-over pleated detailing make for a truly unique silhouette that we can't take our eyes off of! Our advice? Add yours to your cart now before it's gone…
Shop Anna Sophia Robb 's Romantic Red Dress Style...
AMUR Lorena Strapless Pleated Mini Dress

$

498

NORMA KAMALI Slinky Ruched Jersey Midi Dress

$

265

PRADA Strapless Mini Dress

$

3,300

SELF-PORTRAIT Azalea Lace Mini Dress

$

395

REBECCA VALLANCE Scarlett Strapless Midi Dress

$

599

HOUSE OF CB Noelle Off The Shoulder Ruffle Sleeve Mini Dress

$

239

ALEXIS Corsini Dress

$

748

MORE TO COME Marcine Strapless Dress

$

72

H:OURS Alisha One Shoulder Dress

$

158

NORMA KAMALI Diana One-shoulder Ruched Stretch-jersey Dress

$

195

OSCAR DE LA RENTA Red Strapless Cotton Mini Dress

$

1,790

NORMA KAMALI Slinky Strapless Ruched Stretch-jersey Midi Dress

$

265

OSCAR DE LA RENTA Velvet Paillette Scallop Cocktail Dress

$

6,990

NOOKIE Lexi Chain Mini Dress

$

229

SELF PORTRAIT Crepe Bow Mini Dress

$

425