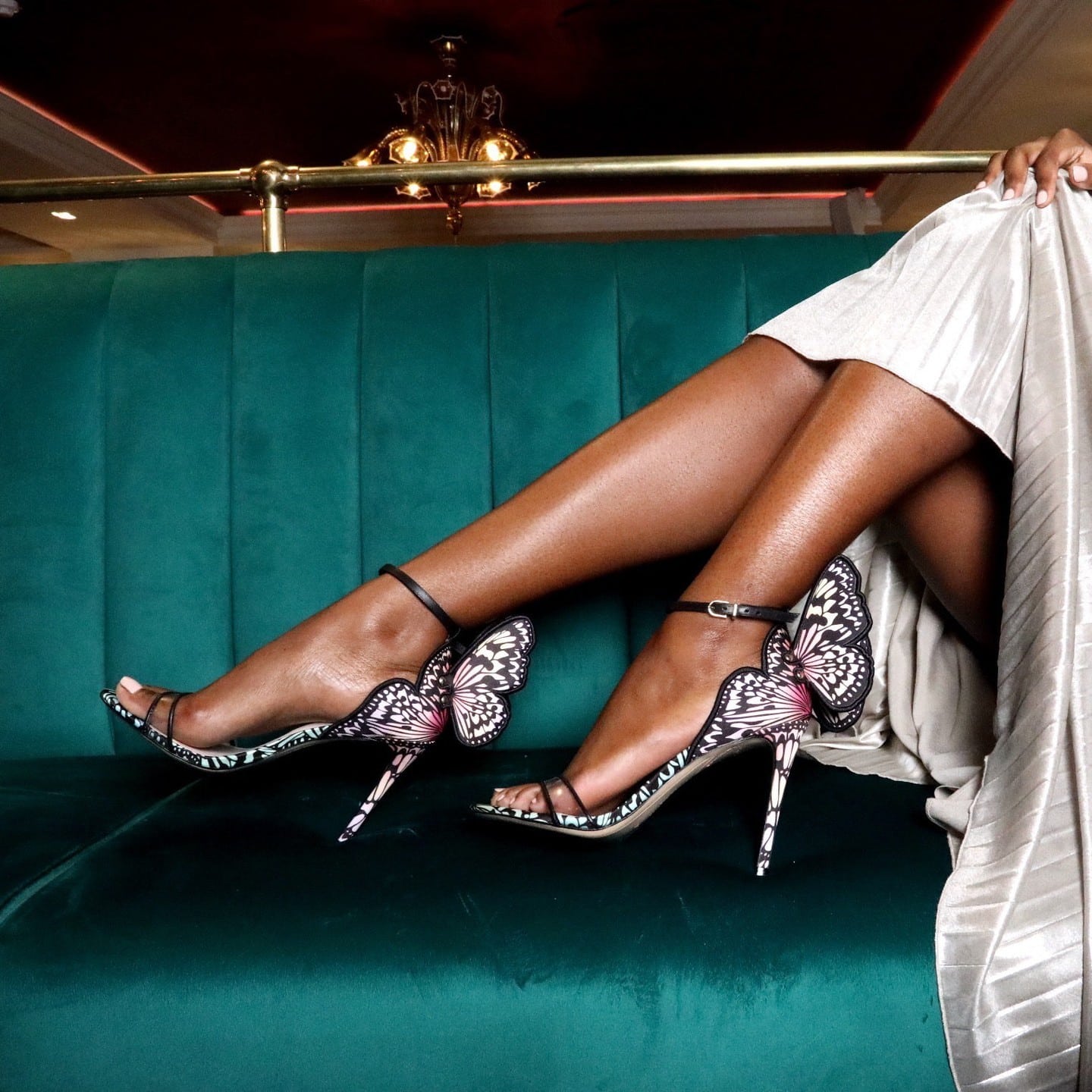 @SOPHIAWEBSTER / INSTAGRAM
Ankle Strap Heels Destined To Elevate Your Outfit
When it comes to accentuating the beauty of your outfit, there's nothing quite like stepping into a stylish pair of designer ankle strap heels. Perhaps you're all about vibrant color and showstopping statement shapes. Maybe you can't resist the effortless elegance of a modern metallic heel. Either way, we have your footwear lineup covered for the season ahead. From closed-toe pumps to summery sandals, everything you've been looking for is just a scroll away…
Unique Ankle Strap Heels For A Playful Twist
If you're keeping your eye out for unique colors and designs when it comes to your ankle strap heels, you can call off the search. We've found just what you need! Firstly, the Concerto feather-trimmed satin sandals by Aquazzura are like summer in a shoe! Their soft shade of lemon yellow is undeniably pretty whilst the soft feather detailing at the back means they demand attention from every angle! Additionally, you can offset these stunning heels with similar shades of yellow or opt for a blue dress for a striking contrast!
Alternatively, why not opt for multicolored heels in the form of Sophia Webster's unforgettable Chiara butterfly sandals! These striking heels are certain to make your outfit instantly memorable. Additionally, they'll coordinate perfectly with a vast array of colors thanks to their black base shade and multi-colored butterfly detailing.
Must-Have Metallic Ankle Strap Heels
If you don't already own a pair of metallic ankle strap heels, you're going to want to now! Firstly, when it comes to your dresses, they'll match with countless colors and designs. Secondly, they're great for elevating your outfit and will even elongate your silhouette! Therefore, we're smitten with the California 105mm leather sandals by Gianvito Rossi. Their chic brushed gold effect is undeniably elegant. Additionally, the padded straps are instantly iconic and make them even more comfortable to wear!
Alternatively, those in search of silver shoes will adore the So Me Spike metallic sandals by Christian Louboutin. The delicate ankle straps, subtle spike adornments, and sky-high heels mean these sandals are simultaneously edgy and chic. Finally, they're ideal for summer nights and your after-dark dinner and dancing plans!
Shop All Ankle Strap Heels