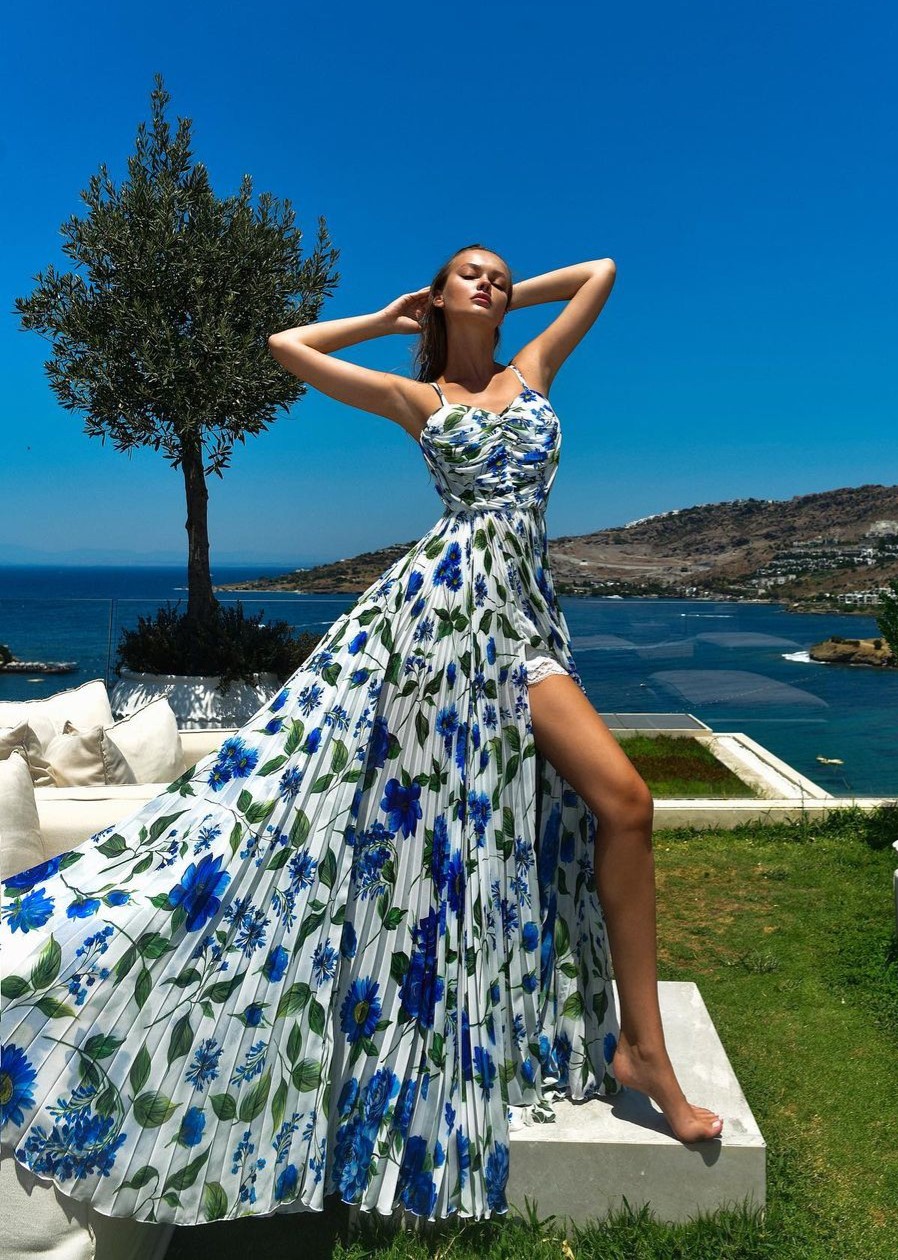 Alessia Merzlova's Floral Maxi Dress Is The Summer Silhouette We All Need
@ALESSIA.MERZLOVA / INSTAGRAM
Alessia Merzlova's Floral Maxi Dress Is The Summer Silhouette We All Need
Call off the search – Alessia Merzlova has done the hard work for us and found this season's ultimate summer silhouette! From the eternally flattering V-neck bodice to the pleated floor-length skirt, this dress is seriously beautiful and wonderfully versatile for countless events on your summer calendar. Whether it's a sunset dinner date on vacation or an impromptu outdoor soireé, we're pining to wear dresses just like this one for all of our summer plans. Luckily, thanks to the likes of Oscar De La Renta, Isabel Marant, and Emilia Wickstead, we didn't have to look too far…
The Ideal Summer Silhouette For Every Event
From wedding receptions, to garden parties, to jetting off on vacation, Alessia Merzlova's stunning designer maxi dress is the perfect silhouette to slip into all summer long! And, as so many of our favorite designers and online fashion stores happen to agree, we're spoiled for choice this summer season. Firstly, we'll be slipping into the Carmen corset ruffles gown by V.Chapman every chance we get. Much like Alessia's, this gorgeous designer maxi dress has a classic V-neckline, a beautiful blue floral print, delicate spaghetti straps, and a voluminous, floor-length skirt. Additionally, we adore how the sculpted, boned bodice both compliments your waist and perfectly contrasts the ruffle-tiered skirt.
Meanwhile, the sleeveless Hydrangea poplin maxi dress by Oscar De La Renta is almost identical to Alessia's dress! From the shapely silhouette to the picturesque print, it has all of the features we love about our inspo dress. In particular, we're swooning over the expertly crafted V-neck bodice and floaty maxi skirt. Together, they create the most stunning summer silhouette whilst effortlessly elevating those beautifully vibrant hues.
Shop The OSCAR DELA RENTA Sleeveless Hydrangea Poplin Maxi Dress
OSCAR DE LA RENTA Sleeveless Hydrangea Poplin Maxi Dress

$

2,990
Put Your Own Spin On This Dream Summer Maxi Dress Look
Whilst we obviously adore the beautiful blues of Alessia's dress, we're also in awe of these equally striking maxi dresses in other colorways. For example, the Giana ruched tiered maxi dress by Isabel Marant. Firstly this dress dazzles with a near-identical shape but offers a softer pallette with an all-white background and a soft pink and green print. A stunning summer dress that'll look just as good worn casually with flats or dressed up with heeled sandals.
Alternatively, if it's color you seek, we hear you! The Lima tiered floral-print dress from Agua By Agua Bendita + Net Sustain has been on our wishlist for weeks! Firstly, it offers a chic square neckline and a dreamy ankle-length skirt. Secondly, it steals the scene with a summery yellow hue and delicate botanical print! Our advice? Secure it now before it's gone for good!
Shop Alessia Merzlova's Maxi Dress Style...
SACHIN & BABI Jessica Gown

$

285

SACHIN & BABI Azure Watercolor Floral Blair Dress

$

395

IEENA FOR MAC DUGGAL Floral Print Sleeveless A-Line Gown

$

398

ASOS Knot Front Cutout Tiered Maxi Dress

$

82

V. CHAPMAN Carmen Corset Front-Slit Ruffled Gown

$

585

FREE PEOPLE Sundrenched Floral Smocked Bodice Maxi Sundress

$

168

A.L.C. Laura Print Cutout Cotton Sundress

$

595

SABINA MUSÁYEV Printed Chiffon Maxi Dress

$

398

EMILIA WICKSTEAD Oceana Floral-print Faille Gown

$

2,656

MAEVE Drop-Waist Dress

$

180

OSCAR DE LA RENTA Sleeveless Hydrangea Poplin Maxi Dress

$

2,990

ISABEL MARANT Giana Ruched Tiered Floral-print Cotton-voile Maxi Dress

$

750

AGUA BY AGUA BENDITA Net Sustain Lima Tiered Floral-print Linen Maxi Dress

$

920

ISABEL MARANT Giana Dress

$

750

EMILIA WICKSTEAD Vir Square-neck Floral-print Floral-print Dress

$

3,340