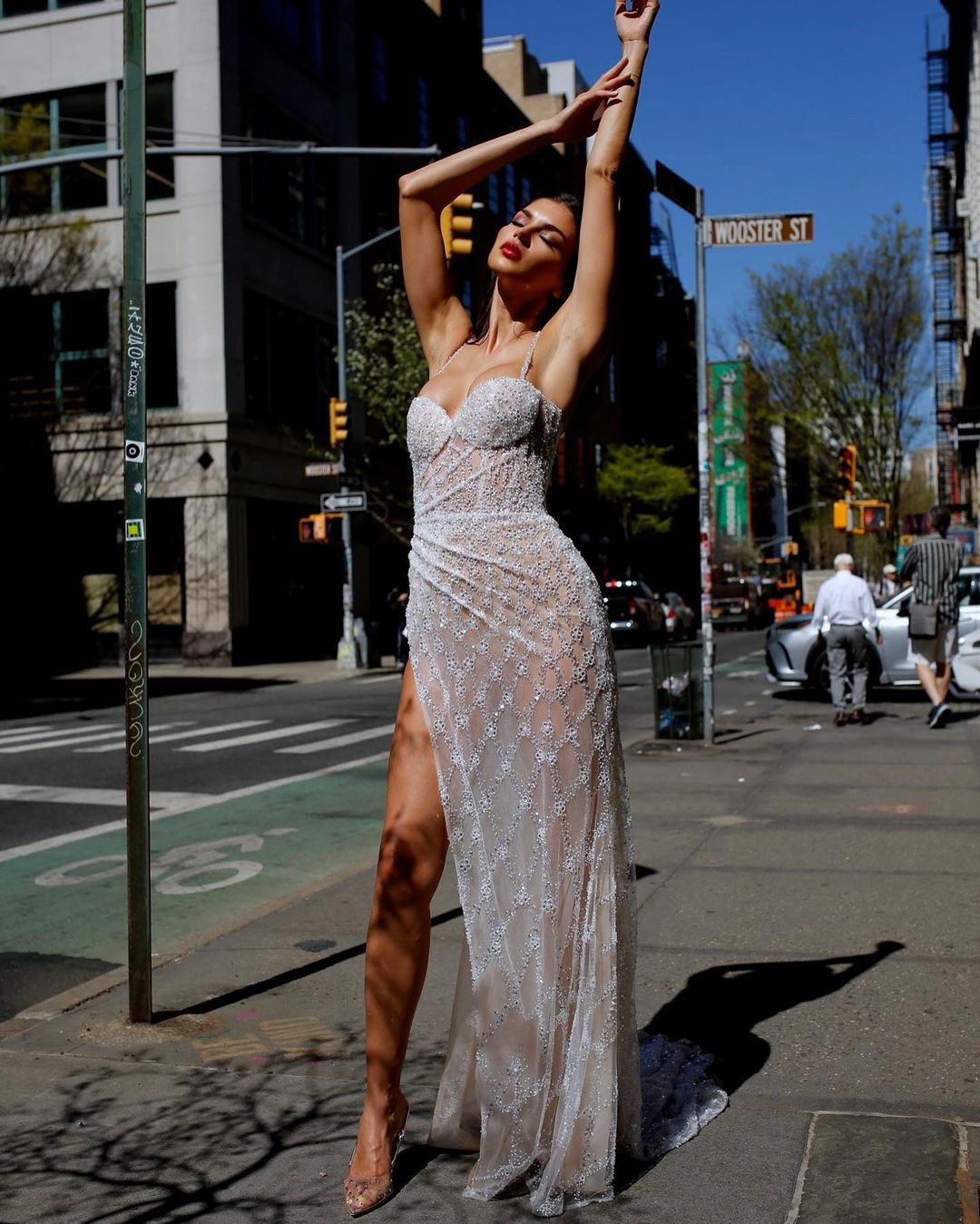 Alejandra Cata's Embellished Designer Gown Is Irresistibly Pretty
@ALEJANDRACATA / INSTAGRAM
Alejandra Cata's Embellished Designer Gown Is Irresistibly Pretty
We've seen plenty of gorgeous designer dresses in our time, but this Alejandra Cata gown is certainly one of the most beautiful. From the structured bodice and floor-length skirt to the all-over embellishments and thigh-high split. Everything about this dress exudes luxury and classic glamour and we're dying to replicate it within our own closets. Lucky for us, and all thanks to our fave designers, there are plenty of equally stunning silhouettes to choose from this season. Keep scrolling to discover all we've found from Bronx and Banco, V. Chapman, Givenchy, Saint Laurent, and so many more.
Glam Embellished Gowns To Rival Alejandra Cata's
Whether you're heading to the red carpet or an especially glitzy date night, these Alejandra Cata style dresses have your outfit covered. For example, the Ophilia gown by V. Chapman is remarkably similar! Firstly, it dazzles with a chic v-neckline and barely-there spaghetti straps which perfectly complement the boned bodice and glamorous floor-length skirt. Secondly, the peplum-style, lace-up corset is supremely flattering and adds a unique edge to this dress to ensure you stand out at your next event. Our advice, style yours with a nude or metallic pair of heeled sandals. This will instantly lengthen your silhouette and elevate the sleek shape of this dreamy sheer dress.
Meanwhile, those looking for an added touch of sparkle will adore the Mademoiselle corset midi dress by Bronx and Banco. Much like our inspo dress, this one demands attention with all-over sparkles and a boned corset. Additionally, the slightly shorter skirt is classically stylish and perfect for showing off your favorite designer heels. We'll be styling ours with a gorgeous pair of closed-toe pumps with an ankle strap!
Shop The V. CHAPMAN Ophilia Gown
V. CHAPMAN Ophilia Gown

$

465
The Prettiest Alejandra Style Designer Silhouettes
Since we're so in love with so many of the features on Alejandra's dress, we're feeling inspired to look for them in other dresses. For example, though it's a much shorter silhouette, the structured floral mini dress by Helsi will make us feel just as stunning as our style star. This stunning nude dress wows with all-over floral embroidery and a sweet square neckline. What's more, we adore the nude colorway that's so perfectly offset by the 3D ivory flowers. Therefore, we highly recommend adding this to your summer lineup for everything from dinner dates to your own bridal shower!
Finally, knowing that we're powerless to resist the structured fit and thigh-high split, we'll be slipping into the Reyna maxi dress by Camila Coelho every chance we get. Initially, we fell head over heels for the asymmetric neckline and silky satin finish. Secondly, we noticed how incredibly flattering and versatile this dress is. So, make sure you get your hands on this must-have dress soon, we don't imagine it'll be available for long!
Shop Alejandra Cata's Dress Style...
VIVIENNE WESTWOOD Nova Cora Off-the-shoulder Sequinned Mini Dress

$

3,579

CHARO RUIZ Melia Scalloped Tiered Cotton-blend Voile Maxi Dress

$

699

ALESSANDRA RICH Embellished Ruffled Cotton-blend Lace Gown

$

4,810

BRONX AND BANCO Mademoiselle Corset Sequined Midi Dress

$

880

IEENA FOR MAC DUGGAL Crystal Embellished Strap Gown

$

298

ZIMMERMANN Raie Guipure Lace Mini Dress

$

950

MICHAEL LO SORDO Asymmetric Open-back Ruffled Crystal-embellished Silk-satin Gown

$

1,190

SAINT LAURENT Silk Maxi Dress

$

4,590

V. CHAPMAN Ophilia Gown

$

465

SAU LEE Priyanka Dress

$

495

ELIE SAAB Sleeveless Embroidered Tulle Gown

$

12,075

HELSI Structured Floral Mini Dress

$

535

FOR LOVE & LEMONS Lily Dress

$

789

CAMILA COELHO Reyna Maxi Dress

$

220

KATIE MAY Eros Gown

$

395

RETROFETE Cassandra Dress

$

565

GIVENCHY Open-back Crystal-embellished Silk-chiffon Gown

$

5,320

RETROFETE Marley Dress

$

995